Ted
Carter
planning for the future
How a Former Navy Admiral Is Charting a New Course for the University of Nebraska
A retired Navy admiral with over 30 years of service to our nation, Ted Carter has faced challenging decisions before. But when he accepted the job to lead the University of Nebraska in November 2019, no one could have imagined the looming crisis—a global pandemic and an economic depression
It hit soon after Carter officially took the reins at the University in January of 2020. He consulted experts, listened to advice from campus leaders and used his years of experience to make decisions that were not clouded by what Carter calls the "fog of war."
"There are a lot of leaders that just don't know how to react when operating in a world of unknowns," Carter said. "My time in the military helped me understand that you're never going to have perfect information to make the big decisions."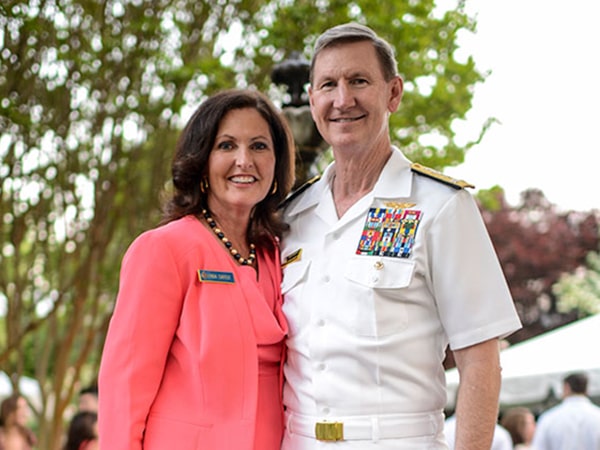 Today, as higher education and the nation itself faces enormous challenges, he has put together a strategy that will help Nebraska's only public university grow and thrive—despite the current environment of uncertainty. The highlights include affordability and accessibility, growth, workforce development, research, and diversity.
The plan starts with the University's 51,000 students—and putting them first. Initiatives like the Nebraska Promise program—which guarantees a tuition-free education for students with family incomes of sixty thousand dollars or less—a two-year, across-the-board tuition freeze and reopening for in-person learning in the fall semester have paid off with enrollment increases, especially among first generation and minority students. "When you add all that up—affordability, accessibility, setting programs that are for the students—I think that really resonated with students," Carter said.
"I'm excited about the future. It's bright as ever." – President Ted Carter
He is also interested in using research to address complex problems and improve the quality of life in Nebraska and around the world. Carter notes that the University of Nebraska is exceptional in a number of areas of research, including infectious disease, early childhood development, national security, and agriculture.
Eleven months into his new role, Ted Carter can't imagine himself anywhere other than Nebraska. Says Carter: "I'm excited about the future. It's bright as ever."
Listen to more "Leading Nebraska" stories or follow our podcast

Your story is just as personal and powerful as the ones above. Take a moment to tell it to your senator, and share why it's critical to invest in the University of Nebraska. It only takes a few minutes to send a personal email or make a phone call. Here's how to do it.
Contact Your State Senator
Join us in growing a strong future for Nebraska. When you become an NU Advocate, you'll be among the first to hear about important issues, key legislative bills and upcoming advocacy events. With knowledge and resources, it's easy to help make a difference.
Join Now
COOKIE USAGE:
The University of Nebraska uses cookies to give you the best online experience. By clicking "I Agree" and/or continuing to use this website without adjusting your browser settings, you accept the use of cookies.