COVID-19 UPDATE: NU is open. Faculty/staff are working in-person and campuses are open for in-person learning this fall.
MORE INFO
Juliann
Kopf
Innovating Nutrition with Insects
For Bugeater Foods, turning insects into healthy food products is all in good taste.
Protein shakes. They're a must-have for athletes looking to speed up post-workout recovery and repair tired muscles. Most protein shakes are made with whey, soy, or casein. But some health nuts are gulping down a more novel source of protein: crickets.
After a stint grinding crickets for the University of Nebraska—Lincoln Food Processing Center, Kopf worked with two other Husker alumni to launch Bugeater Foods and its cricket protein powder, Jump. "Conscientious eaters are looking for sustainable food sources, and some are looking for an alternative protein," says Juliann Kopf, UNL Alumna and co-founder of Bugeater Foods.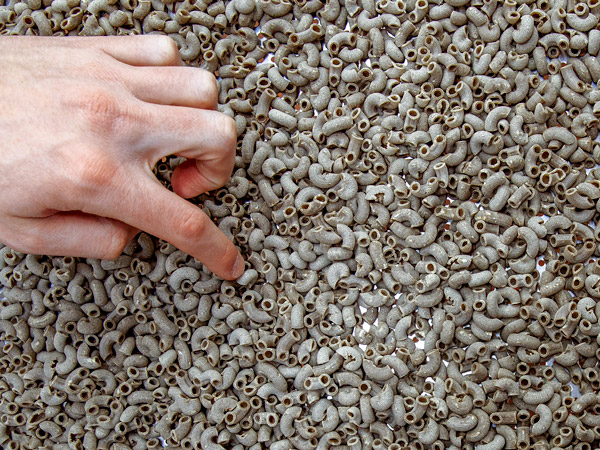 More sustainable is right. According to the Food and Agriculture Organization of the United Nations, raising insects leads to fewer greenhouse gas emissions and uses less water. And in a world where the growing population is outpacing the food supply, tiny insects can mean big business.
It's estimated that more than 20 percent of the world's population include insects in their daily diet, but this country has some catching up to do. Kopf estimates there are only about ten successful companies in the U.S. catering to this niche market.
Due to Jump's success (you can find it through Bulu Box and Hy-Vee supermarkets), Bugeater Foods snagged a six-figure grant from the U.S. Department of Agriculture to continue pushing the envelope. Next on the menu: Bugs-a-Roni, a macaroni pasta rich in iron and protein. Kopf has her eyes set on mealworms in the future, which she reports have a flavor that complements other foods well, the way tofu does.
In a world where the growing population is outpacing the food supply, tiny insects can mean big business.
There's no end in sight for Bugeater Foods' momentum, thanks to its entrepreneurial creativity and proximity to the world's top food scientists at the University of Nebraska.
"I always say there are three types of people: the people who say 'no way;' people who say, 'definitely;' and people who say, 'Eh, maybe;'" Kopf said. "And to those people, we say, 'Give it a try. It has such a great nutritional profile, what have you got to lose?'"
A strong university can give students the foundation they need to think outside the box, just like Kopf did. With enough support, who's to say what the next big Husker idea will be?
Pictured in the header photo from left to right: Kelly Sturek, co-founder of Bugeater Foods and Juliann Kopf.
Your story is just as personal and powerful as the ones above. Take a moment to tell it to your senator, and share why it's critical to invest in the University of Nebraska. It only takes a few minutes to send a personal email or make a phone call. Here's how to do it.
Contact Your State Senator
Join us in growing a strong future for Nebraska. When you become an NU Advocate, you'll be among the first to hear about important issues, key legislative bills and upcoming advocacy events. With knowledge and resources, it's easy to help make a difference.
Join Now
COOKIE USAGE:
The University of Nebraska uses cookies to give you the best online experience. By clicking "I Agree" and/or continuing to use this website without adjusting your browser settings, you accept the use of cookies.