COVID-19 UPDATE: NU is open. Faculty/staff are working in-person and campuses are open for in-person learning this fall.
MORE INFO
Download Our Magazine
View More Stories & Podcasts
Dan
Kent
Equipment Safety Training
How a Former Bull Rider is Helping Students Get a Jump on Farm Safety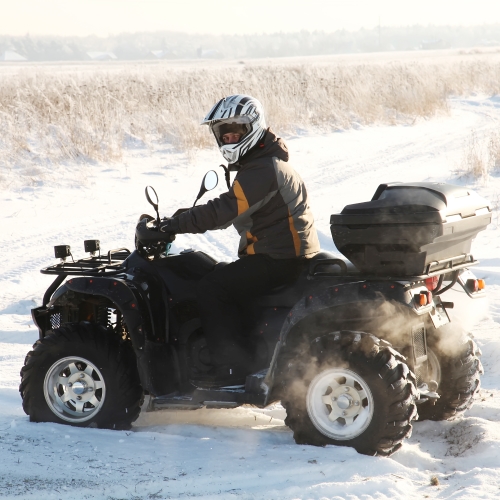 Only in Nebraska could you find a rodeo bull rider turned producer and Ph.D. student. Dan Kent of the UNMC College of Public Health is leveraging his unique background to make an impact on Nebraska's future producers.
Operating tractors and ATVs is a way of life in rural towns; a rite of passage for young people working on their family operations. With large equipment comes large risks, like serious head and neck injuries—some of which can be fatal. Those who survive equipment roll-overs may be paralyzed for life. Over the long term, tractor and ATV use is associated with respiratory issues and hearing loss later in adults over 50. In 2016, ATV incidents resulted in seven deaths, 94 hospitalizations, and 578 emergency room visits in Nebraska. These risks are what make agriculture the most dangerous work industry by injury rate.
In 2016, ATV incidents resulted in seven deaths, 94 hospitalizations, and 578 emergency room visits in Nebraska.
In the face of grim statistics, Kent and the rest of the UNMC team are working to shift the tide in a positive direction. They operate a two-day certification course for students (mostly aged 14- and 15-years old) to plant the seed of "safety first" for young people from day one. After the course, students walk away with an extensive knowledge of personal protective equipment (PPE), as well as training on tractors and ATVs. In 2018, 130 Nebraska students earned their certification to operate tractors and ATVs.
Having grown up on a livestock operation, Kent has plenty of farm safety stories that stick with the young students. His rodeo days are behind him, but he still runs his own farm just outside of Lincoln.
Farming is part of Nebraska's history, and it will continue to drive the state's growth into the future. With support from the University of Nebraska, Kent and his team are at the forefront of ensuring the next generation continues to reap the rewards of working on a farm—all while staying as safe as possible.
Your story is just as personal and powerful as the ones above. Take a moment to tell it to your senator, and share why it's critical to invest in the University of Nebraska. It only takes a few minutes to send a personal email or make a phone call. Here's how to do it.
Contact Your State Senator
Join us in growing a strong future for Nebraska. When you become an NU Advocate, you'll be among the first to hear about important issues, key legislative bills and upcoming advocacy events. With knowledge and resources, it's easy to help make a difference.
Join Now
COOKIE USAGE:
The University of Nebraska uses cookies to give you the best online experience. By clicking "I Agree" and/or continuing to use this website without adjusting your browser settings, you accept the use of cookies.