COVID-19 UPDATE: NU is open. Faculty/staff are working in-person and campuses are open for in-person learning this fall.
MORE INFO
Brett
Douglas
industritrial distribution program
Why Companies are Flocking to Flyover Country to Recruit UNK Grads
Central Nebraska is home to many unique strengths. A healthy work ethic. Goodhearted people. So it's only fitting that it's also home to one of the nation's only universities pumping out industrial distribution experts. The University of Nebraska at Kearney is filling a national pipeline with strong candidates for H3 — high wage, high skill, high demand — technical sales and business management jobs.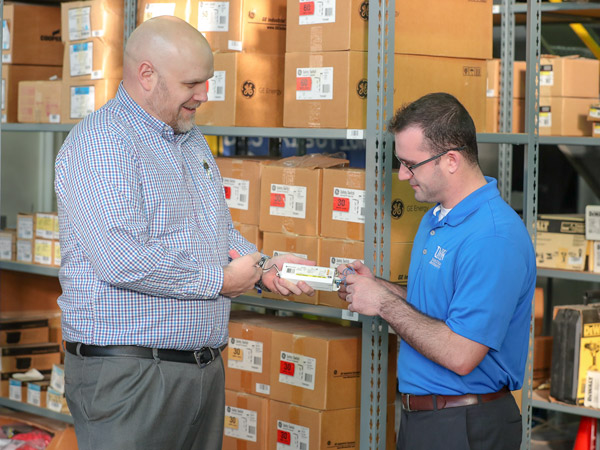 Students in UNK's industrial management program have their work cut out for them from day one. The demanding curriculum is tailored to meet today's industry needs with the support of trade associations, distributors and manufacturers — who in turn participate in guest lectures and career fairs. Interacting with real business leaders doesn't only build confidence; it builds essential early networking connections.
"One of the biggest things the industrial distribution program provided for me was exposure to an abundance of very successful entrepreneurs and very successful salespeople and managers from companies large and small," said 2014 graduate Brett Douglas. "We were getting to meet and interact with them on a professional level from our first semester in the program."
Douglas is now the president and owner of Kearney Winnelson, a wholesale distributor of residential and commercial plumbing supplies.
"There aren't a whole lot of other schools that are able to do what UNK is able to do with that program."
"UNK industrial distribution is a very well-respected program and a lot of the students who have come out of that program and become professionals in this field are really carrying their weight," Douglas said. "There aren't a whole lot of other schools that are able to do what UNK is able to do with that program."
Like stocking a branch simulation lab with products donated by program partners, for example. Just one more unique offering of the major, in addition to a 12-week summer internship before graduation. It's no wonder the program's job placement rate is nearly 100 percent. And those students aren't just staying in Nebraska, either.
"Companies fly over other Big Ten and Big 12 schools to get into little Kearney, Nebraska, to hire our graduates," said lecturer and program coordinator Ben Brachle, who is also a UNK alumnus.
So while the program is making Nebraskan industry stronger, it's affecting change on a national scale as well. There aren't many university systems that could support such an effort, but to the people who know what University of Nebraska has to offer, it just makes sense.
Your story is just as personal and powerful as the ones above. Take a moment to tell it to your senator, and share why it's critical to invest in the University of Nebraska. It only takes a few minutes to send a personal email or make a phone call. Here's how to do it.
Contact Your State Senator
Join us in growing a strong future for Nebraska. When you become an NU Advocate, you'll be among the first to hear about important issues, key legislative bills and upcoming advocacy events. With knowledge and resources, it's easy to help make a difference.
Join Now
COOKIE USAGE:
The University of Nebraska uses cookies to give you the best online experience. By clicking "I Agree" and/or continuing to use this website without adjusting your browser settings, you accept the use of cookies.