COVID-19 UPDATE: NU is open. Faculty/staff are working in-person and campuses are open for in-person learning this fall.
MORE INFO
Paul
Trippier
Health Care Cash Fund
An Investment in Biomedical Research is Paying Off for Nebraska
As a Fulbright Scholar awardee with a successful lab on his resume, Dr. Paul Trippier of Manchester, England had his choice of U.S. universities where he could continue his work. His decision came down to great facilities, an encouraging scientific atmosphere and a location close to family.
"Omaha won out," Dr. Trippier said, and he brought his experience to the University of Nebraska Medical Center.
Dr. Trippier is a medicinal chemist, an emphasis within the College of Pharmacy's UNMC Center for Drug Discovery. He likens medicinal chemistry to a kid working with a Lego set. You can follow the directions and make the picture on the box. But then, "You can put a bit on, take a bit off, make whatever you want and make something cooler."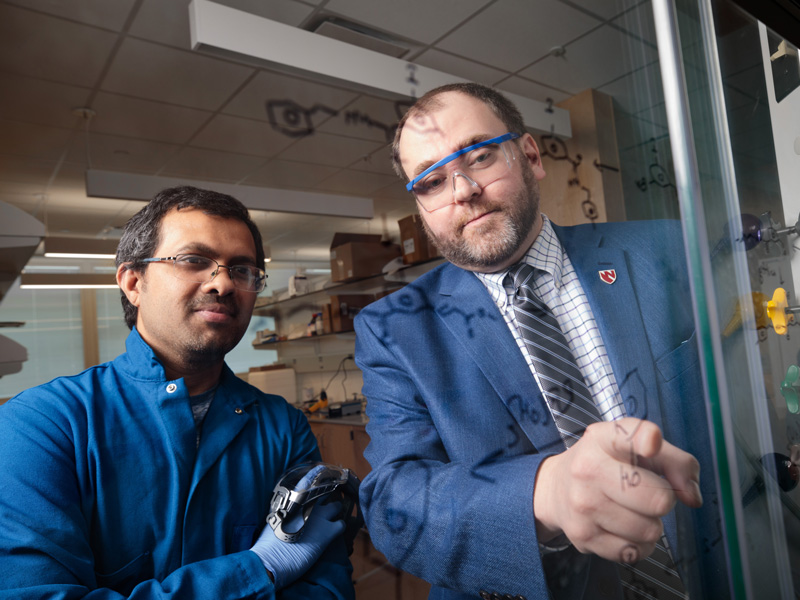 He's one of the many talented new thinkers brought to Nebraska thanks to the Health Care Cash Fund. In 2001, the state decided to invest tobacco settlement agreement funds in biomedical research, and the Health Care Cash Fund was born. In 19 years, it has resulted in a $5.5 billion expansion of the state's economy and the creation of more than 14,000 sustainable jobs—with an average pay of $76,000.
"The scientists that we have invested in represent a net 'brain gain' for our state, making discoveries that lead to better medical therapies and better health for the people of Nebraska," said Dr. Chris Kratochvil, UNMC associate vice chancellor for clinical research.
"The scientists that we have invested in represent a net 'brain gain' for our state."
That "brain gain" includes many projects from Dr. Trippier that could result in major medical breakthroughs. One that involves an enzyme that is linked to drug resistance in cancer. Dr. Trippier and his team have identified a molecule that is very potent and selective to block this enzyme which will take out the drug resistance aspect, so cancer therapies will be more effective. He's already seen encouraging results in mice studies. Another project could result in lengthening the amount of time a stroke victim can receive treatment before permanent damage is done.
Investments into the Nebraska Health Care Cash Fund have returned $23.28 to the state's economy for every dollar invested since 2001, and through job creation, generated a state and local tax revenue of $274 million. By continuing to support the investment of research within the University of Nebraska, the state's budget and its people will have a more promising future.
Your story is just as personal and powerful as the ones above. Take a moment to tell it to your senator, and share why it's critical to invest in the University of Nebraska. It only takes a few minutes to send a personal email or make a phone call. Here's how to do it.
Contact Your State Senator
Join us in growing a strong future for Nebraska. When you become an NU Advocate, you'll be among the first to hear about important issues, key legislative bills and upcoming advocacy events. With knowledge and resources, it's easy to help make a difference.
Join Now
COOKIE USAGE:
The University of Nebraska uses cookies to give you the best online experience. By clicking "I Agree" and/or continuing to use this website without adjusting your browser settings, you accept the use of cookies.