COVID-19 UPDATE: NU is open. Faculty/staff are working in-person and campuses are open for in-person learning this fall.
MORE INFO
Hunter
Flodman
meeting the need for hand sanitizer during the pandemic
How a Biomedical Engineer Helped Meet the Need for Hand Sanitizer During the Pandemic
In March of 2020, many people began moving to working and learning from home as coronavirus made its way across the nation. Hand sanitizer was hard to find, not only for individuals and families—but for businesses and organizations on the front lines and for essential workers. From ingredients to make hand sanitizer to plastic to package it, supplies were low and availability was limited.
That's when the University of Nebraska–Lincoln stepped in to help businesses across Nebraska, producing about 200,000 gallons of hand sanitizer at Nebraska Innovation Campus. Hunter Flodman, associate professor of practice in chemical and bimolecular engineering at UNL, helped lead the effort, forming partnerships with the Nebraska Ethanol Board and private businesses to get production up and running. The product was given to organizations across the state—including long-term care centers and hospitals—for free.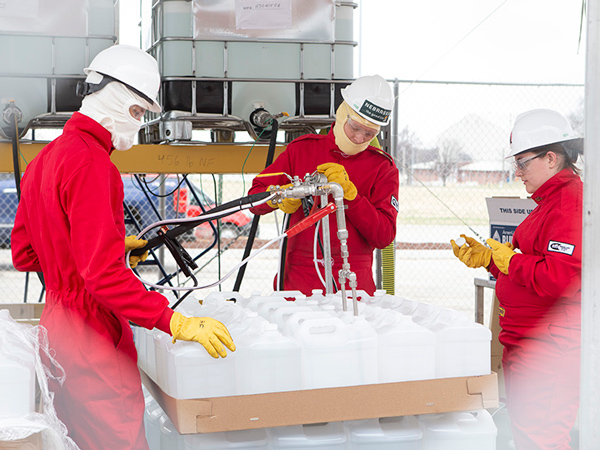 "Every time we faced a challenge, we reached out," Flodman said. "People were more than willing to help, whether that was within the university or within industry. Things moved at a really accelerated pace, because everybody knew the urgency of the situation."
UNL's response and support of Nebraskans during the COVID-19 pandemic haven't stopped with hand sanitizer. Protective face shields and disposable gowns for first responders were produced at the makerspace at Nebraska Innovation Campus, and UNL's Office of Research and Economic Development steered expertise and resources toward the COVID-19 response.
Bob Wilhelm, vice chancellor of research and economic development, said, "Our faculty, our staff, our students—they're problem solvers. They are interested in helping fight the pandemic, and they wanted to take action right away."
"As Nebraskans, we support each other. When someone steps up to do something to help, other Nebraskans also step up."
Helping Nebraskans respond to COVID-19 has been a priority across the entire University of Nebraska system, with faculty, staff and students at UNO, UNK and UNMC pitching in as well.
"As Nebraskans, we help each other and we support each other," says Flodman. "When someone can do something to help other people, other Nebraskans step up and do what they can."
Listen to more "Leading Nebraska" stories or follow our podcast

Your story is just as personal and powerful as the ones above. Take a moment to tell it to your senator, and share why it's critical to invest in the University of Nebraska. It only takes a few minutes to send a personal email or make a phone call. Here's how to do it.
Contact Your State Senator
Join us in growing a strong future for Nebraska. When you become an NU Advocate, you'll be among the first to hear about important issues, key legislative bills and upcoming advocacy events. With knowledge and resources, it's easy to help make a difference.
Join Now
COOKIE USAGE:
The University of Nebraska uses cookies to give you the best online experience. By clicking "I Agree" and/or continuing to use this website without adjusting your browser settings, you accept the use of cookies.