COVID-19 UPDATE: NU is open; faculty/staff are working remotely if possible; campuses are open for in-person learning this fall.
MORE INFO
Gina
Ligon
Counterterrorism Data
How a UNO Professor Is Applying Business World Know-How to National Defense
The U.S. Department of Defense (DoD) maintains data on the world's most dangerous individuals, including those involved in ISIS, Al-Qaeda, the Taliban, and the Haqqani network. And now with support from a competitively won $200,000 contract from the DoD, students at the University of Nebraska at Omaha (UNO) will collect and update that data for our nation's defense efforts.
The person heading up this research may not be who you might expect, either. But Dr. Gina Ligon, associate professor of management in the College of Business Administration, said UNO's approach makes them unique.
"We know leadership and organizational structure are linked to performance, so why not draw on those ideas to help inform strategic national security decisions?"
"The methods we use are similar to how you might look at a conventional, for-profit company's senior leadership." Dr. Ligon said. "It's a Maverick approach to researching violent groups. We know leadership and organizational structure are linked to performance, so why not draw on those ideas to help inform strategic national security decisions?"
The federal contract for the project was competitively won, and the talent UNO is bringing to the project was no small factor in gaining the DoD's support. Though she operates out of UNO's College of Business Administration, Dr. Ligon has a Ph.D in Industrial and Organizational Psychology, and she's published over 60 peer-reviewed pieces on innovation and leadership.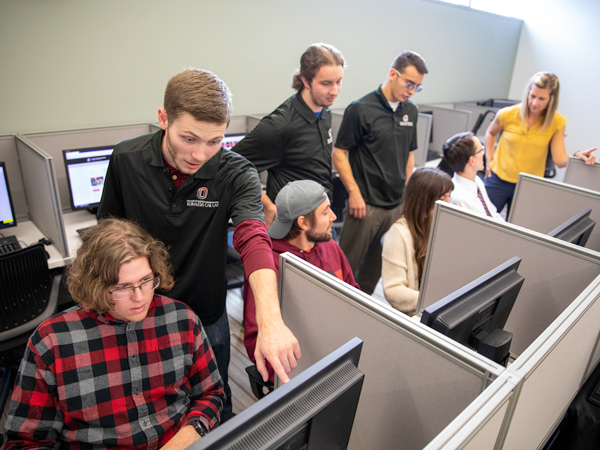 Like a corporation, terrorism group leadership and organizational sophistication changes over time. This project will reveal the structural characteristics of how terrorists organize themselves, in relation to their innovation, lethality, and organizational behavior in general. The dataset, titled The Leadership of the Extreme and Dangerous for Innovative Results (LEADIR), draws on a variety of records to create actionable data on a leader's decision-making style, influence, education, and other "job-related" information.
Grant funding will pay for student work hours as they pull data from sources varying from terrorist autobiographies to government watchdog reports. LEADIR will be accessible to all DoD employees to aid in our nation's counterterrorism efforts.
Work at the University of Nebraska has far-reaching impact, helping us here at home while also supporting the protection of our country. As long as our University system has the support to continue hiring talent like Dr. Ligon and winning prestigious grants for federal work, its position in the state will continue to be secure for years to come.
Listen to more "Leading Nebraska" stories or follow our podcast

Your story is just as personal and powerful as the ones above. Take a moment to tell it to your senator, and share why it's critical to invest in the University of Nebraska. It only takes a few minutes to send a personal email or make a phone call. Here's how to do it.
Contact Your State Senator
Join us in growing a strong future for Nebraska. When you become an NU Advocate, you'll be among the first to hear about important issues, key legislative bills and upcoming advocacy events. With knowledge and resources, it's easy to help make a difference.
Join Now
COOKIE USAGE:
The University of Nebraska uses cookies to give you the best online experience. By clicking "I Agree" and/or continuing to use this website without adjusting your browser settings, you accept the use of cookies.