COVID-19 UPDATE: NU is open. Faculty/staff are working in-person and campuses are open for in-person learning this fall.
MORE INFO
Holly
Zimmerman
Genetic Counseling Master's Program
Passing Down the Art & Science of Genetic Counseling
"A genetic counselor is like air conditioning. When you do not have it, you do not realize you are missing it, but when you have it, you cannot live without it." — Emeline Davoine, French geneticist.
That's one of Holly Zimmerman's favorite quotes to describe why the demand for genetic counselors is rising. As the founding director of UNMC's new genetic counseling master's program, she understands the delicate balance of art and science that goes into this branch of medicine.
"We are translators of genetic information and truly enjoy teaching others. As we discover that more and more diseases have a genetic component, we are finding our genetic knowledge and education skills extremely useful," said Zimmerman.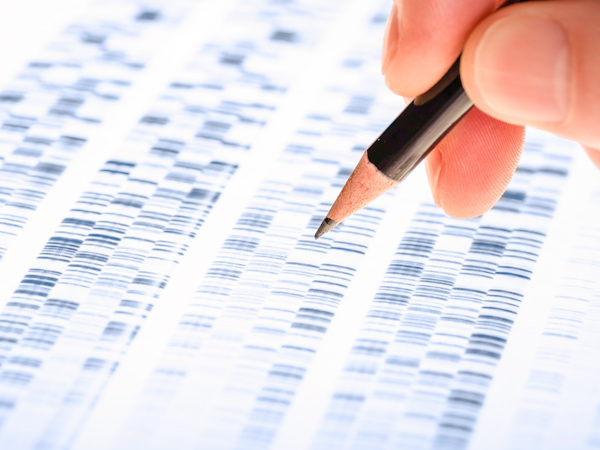 Genetic counseling combines the study of medical genetics with counseling for individuals and families learning how inherited diseases may impact their health. When patients are lost in a haze of medical jargon, a genetic counselor can step in as their advocate to help them understand the effect of genetics on their condition. They have the empathy to work closely with patients, and the expertise to collaborate with specialties like cardiology and neurology, and even insurance companies, to ensure that the patient receives well-rounded care. After graduation, genetic counselors can also work as consultants for companies that perform genetic testing.
These are H3 jobs — high wage, high demand, high skill — in Nebraska. On a national scale, the U.S. Bureau of Labor Statistics projects a 29 percent growth rate for genetic counseling jobs through 2026.
The two-year master's degree was created in a partnership between UNMC's College of Allied Health Professions and its Munroe-Meyer Institute, which employs most of the genetic counselors across Nebraska. The program will enroll its first class in Fall 2019.
"Some places may want a program, but maybe don't know what it takes, or don't have the infrastructure in place."
"Some places may want a program, but maybe don't know what it takes, or don't have the infrastructure in place," she said. "The huge benefit here is that with 12 other health profession programs, they collectively know what is needed to make a program successful. Coupled with the incredible clinical expertise within MMI genetics, there's a lot of support for how can we do this, and how can we do it right and well, and really have our students thrive."
As more genetic counselors join healthcare teams in Nebraska, more likely than not, they'll have come from UNMC's master's program. And with continued support of a strong university system, their impact will be felt for generations to come.
Pictured in the header photo: Brianna Zieba and Drew Cratsenberg of the Munroe-Meyer Institute work with Holly Zimmerman (center) during a curriculum planning session.
Your story is just as personal and powerful as the ones above. Take a moment to tell it to your senator, and share why it's critical to invest in the University of Nebraska. It only takes a few minutes to send a personal email or make a phone call. Here's how to do it.
Contact Your State Senator
Join us in growing a strong future for Nebraska. When you become an NU Advocate, you'll be among the first to hear about important issues, key legislative bills and upcoming advocacy events. With knowledge and resources, it's easy to help make a difference.
Join Now
COOKIE USAGE:
The University of Nebraska uses cookies to give you the best online experience. By clicking "I Agree" and/or continuing to use this website without adjusting your browser settings, you accept the use of cookies.