COVID-19 UPDATE: NU is open. Faculty/staff are working in-person and campuses are open for in-person learning this fall.
MORE INFO
Sara
Myers
Peripheral Artery Disease Treatment
Getting Patients Moving with Specialty Support
Advanced age can have its challenges. And when you have severe leg pain with numbness, weakness and cramping, everyday tasks like walking through the grocery store are suddenly much harder. But that's the reality for many people with peripheral artery disease (PAD), a condition that affects one in 20 Americans, according to the National Institute of Health.
Peripheral artery disease doesn't only cause pain; it can also lead to a higher risk of heart attack or stroke. Increasing physical activity can improve outcomes for patients, but when you're in pain, staying active is tough.
Sara Myers is working to break the cycle.
"This patient group can become very sedentary, and once you stop getting out of your house, your quality of life really decreases," says Myers, UNO associate professor of Biomechanics and vice chancellor for Research and Creative Activity. "It's a problem that occurs in a large number of people that doesn't have a lot of treatment options."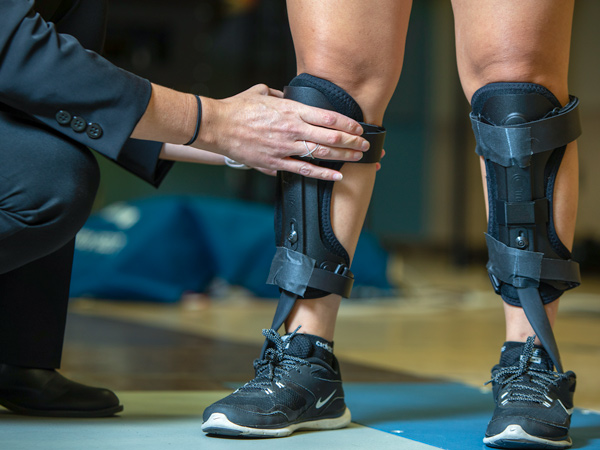 But with her team's biomechanics innovation—an ankle support device—they may be able to reduce patient pain, make physical activity easier and delay invasive treatment procedures.
Myers is leading a five-year study, with three years to go, to investigate whether the ankle support device can support a better quality of life for PAD patients. She has high hopes for the device, since good applications of biomechanics can solve real healthcare problems. Biomechanics experts are also researching the promise of other custom assistive devices for specific conditions, such as stroke survivors.
"I think [our work] speaks to the nature of Nebraskans. We're very giving and hardworking and we want to help."
"I think [our work] speaks to the nature of Nebraskans. We're very giving and hardworking and we want to help. When we have scientists, whether it's at UNO, UNMC, UNK or UNL, whatever it is, that have a problem we can address, we do a great job coming together and working together to solve that important problem."
While biomechanics is a relatively young field, advancements in 3D-printed prosthetics and fall prevention are proof that it's just getting started. Continued support of the university system is key to future projects like Myers'. Just as her ankle device supports patients to keep moving, a strong university will support the success of more healthcare innovations for years to come.
Pictured in the header photo: Sara Myers, right, works with UNO student Henamari Ybay to test the ankle support device in UNO's biomechanics lab.
Your story is just as personal and powerful as the ones above. Take a moment to tell it to your senator, and share why it's critical to invest in the University of Nebraska. It only takes a few minutes to send a personal email or make a phone call. Here's how to do it.
Contact Your State Senator
Join us in growing a strong future for Nebraska. When you become an NU Advocate, you'll be among the first to hear about important issues, key legislative bills and upcoming advocacy events. With knowledge and resources, it's easy to help make a difference.
Join Now
COOKIE USAGE:
The University of Nebraska uses cookies to give you the best online experience. By clicking "I Agree" and/or continuing to use this website without adjusting your browser settings, you accept the use of cookies.