COVID-19 UPDATE: NU is open. Faculty/staff are working in-person and campuses are open for in-person learning this fall.
MORE INFO
Craig
Vyhnalek
Rural Medical Emergency Training
Emergency Medical Training Hits the Road with SIM-NE
Medical emergencies don't discriminate between big cities or small towns. Communities of every size deserve first responders trained in the latest techniques to care for their neighbors. But in a state like Nebraska, rural towns risk being left behind as more populated areas receive cutting-edge lifesaving training.
The University of Nebraska Medical Center saw a simple solution to the problem. Why not just put emergency medical training on wheels?
SIM-NE is a squad of four customized trucks transporting simulated environments that first responders work in. There's an emergency room, an ambulance, and a control room—even patient simulators that talk, "breathe", and react to stimuli. If a trainee uses a certain medication on the patient simulator, he or she can hear how that affects its heartbeat.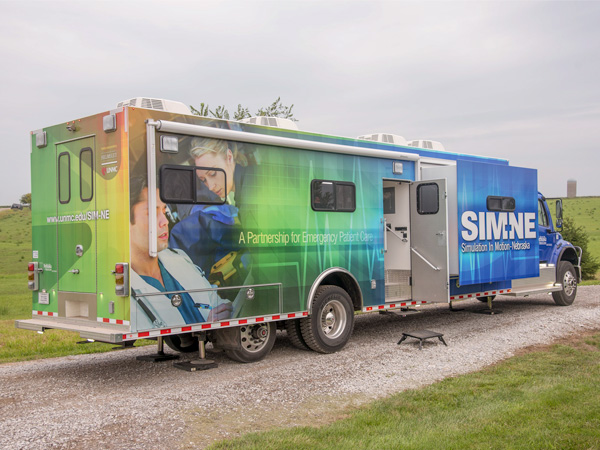 The trucks have visited 4,700 health professionals to date, covering 87 of Nebraska's 93 counties. Training is team-based, with rural responders learning side-by-side with the same people they'd be working with during a real emergency.
To professionals like Craig Vyhnalek, rescue chief of Wilber, Nebraska fire and rescue, the training has been invaluable.
"The unit is amazing, the instructors are amazing, and we are just thankful we were able to participate in that training. … This provided us a tool that enhanced our capabilities and, in my opinion, made us all better," Vyhnalek said.
"This provided us a tool that enhanced our capabilities and, in my opinion, made us all better."
Even for the rural, all-volunteer squad, which includes locals who have answered the call for more than 40 years, the training supported increased engagement.
"Some people who participated in the training and previously hadn't made a lot of calls became more involved and started coming around a little bit more," Vyhnalek said. "So participation rose. And in a small town, participation is very important."
Since its launch in 2017, SIM-NE was initially supported by a generous grant funding the custom trucks, equipment, simulators, and operational expenses. This allowed communities to take advantage of the training at no cost. But UNMC is now seeking new funding to continue supporting the work of SIM-NE.
Medical emergencies can happen to anyone, anywhere. With the continued support of a strong university system, SIM-NE can continue to ensure that whatever happens, local first responders are ready to jump into action.
Your story is just as personal and powerful as the ones above. Take a moment to tell it to your senator, and share why it's critical to invest in the University of Nebraska. It only takes a few minutes to send a personal email or make a phone call. Here's how to do it.
Contact Your State Senator
Join us in growing a strong future for Nebraska. When you become an NU Advocate, you'll be among the first to hear about important issues, key legislative bills and upcoming advocacy events. With knowledge and resources, it's easy to help make a difference.
Join Now
COOKIE USAGE:
The University of Nebraska uses cookies to give you the best online experience. By clicking "I Agree" and/or continuing to use this website without adjusting your browser settings, you accept the use of cookies.