Rebekah
Gundry
heart failure research
Discovering New Strategies for Treating Advanced Heart Failure
Heart failure, which occurs when the heart is too weak to pump enough blood to meet the body's needs, affects 6.2 million adults in the U.S., causes 55,000 deaths each year and indirectly contributes to 230,000 more deaths annually in the U.S. Although there have been recent improvements in congestive heart failure treatment, researchers say the prognosis for people with the disease is still bleak, with about 50% having an average life expectancy of less than five years.
Rebekah Gundry wants to use biomarkers and technology to identify and monitor progression of heart disease. A professor and vice chair of the Department of Cellular and Integrative Physiology at UNMC, Gundry is passionate about cardiovascular research. She is also the director of the CardiOmics program for the Center of Heart and Vascular Research at UNMC, which develops and applies advanced mass spectrometry technologies to improve clinical cardiovascular care.
Of the more than 6 million Americans living with heart failure, about 10% have advanced heart failure. In short, that means conventional heart therapies and symptom management strategies are no longer working. Someone with advanced heart failure feels shortness of breath and other symptoms even at rest. Symptom severity can fluctuate, even within a single day. For those with advanced forms of heart failure, nearly 90% die within one year.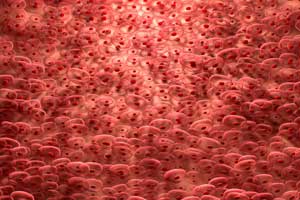 However, having advanced heart failure doesn't mean patients have run out of treatment options. In fact, the increasing number of therapies and state-of- the-art technologies for advanced heart failure provide more choices than ever. Gundry's lab is part of that solution.
A Passion for Studying the Heart
The first time Gundry saw beating heart cells in the lab, it took her breath away.
Gundry was in her post-doctoral training at Johns Hopkins University and learning how to turn stem cells into heart cells. It's a moment she will never forget. A few years later, she had a similar moment when meeting a patient who had just received a heart pump and as a result, a reinvigorated outlook on life.
"You think of the organ conceptually, but to see the cells beating in front of you, and later to see the impact that technology can have on a person's quality of life, those are show-stopping moments," said Gundry. 
Dr. Gundry's fascination with cardiovascular research grew out of her personal encounters with family members who suffered from heart disease, and an overall interest in the technological innovations that improve the lives of patients suffering from advanced heart failure.
"To see heart cells beating in front of you, and then later, to see the impact that technology can have on a person's quality of life—those are show-stopping moments."
–Dr. Rebekah Gundry
A self-described techie, Dr. Gundry has focused her research on enhancing the use of stem cell-derived cardiomyocytes—the cells responsible for controlling the rhythmic beating of the heart—for accurate drug testing and disease modeling. Her goal? To discover new strategies for treating advanced heart failure. 
Applying Technology to Medicine
Gundry's research program develops and applies innovative mass spectrometry technologies to transform our understanding of how the heart works. Mass spectrometry measures the masses of molecules or groups of molecules. Because it is measuring at the molecular level, it delivers high-precision results. It's used to better understand fundamental atomic and molecular processes, and their relevance to events within cells. As a technique, it helps diagnose diseases and discover new drugs, among other applications.
"Mass spectrometry is part of the technology that drives my lab; in fact, it's at the center of our work," Gundry said. "As we weigh the mass of molecules, it allows us to identify things, to characterize them, and to quantify them." Her lab uses mass spectrometry to study surface proteins on both stem cells and heart cells.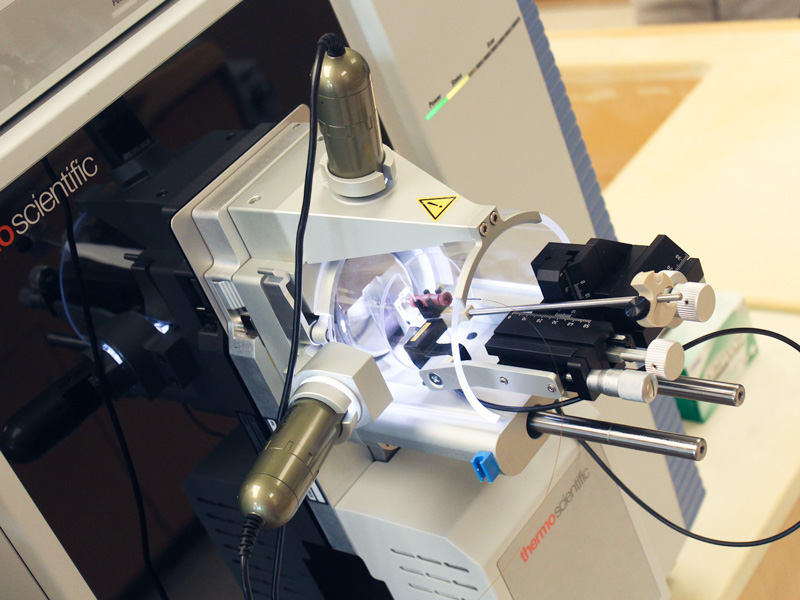 She recently received a prestigious $5.3 million grant from the National Heart, Lung and Blood Institute that will fund her latest project. Gundry's use of mass spectrometry focuses on the subset of molecules and proteins found on the surface of heart cells. These can be optimally exploited for drug targeting, and are critical players in normal cardiac function and disease.
For patients that need heart transplants and can't get one, Gundry's work may be able to help identify targeted drugs that would treat the heart and give it back more ability to beat. She may also be able to help clinicians determine which patients would benefit from implant devices.
"We would like to be able to shift more patients from the category that doesn't reach recovery to the category where they do reach recovery," Gundry said. "My work is about helping clinicians make the right decision for the right patient. You might think of it as a personalized medicine type of approach that gets a particular patient the best treatment for their situation."
Your story is just as personal and powerful as the ones above. Take a moment to tell it to your senator, and share why it's critical to invest in the University of Nebraska. It only takes a few minutes to send a personal email or make a phone call. Here's how to do it.
Contact Your State Senator
Join us in growing a strong future for Nebraska. When you become an NU Advocate, you'll be among the first to hear about important issues, key legislative bills and upcoming advocacy events. With knowledge and resources, it's easy to help make a difference.
Join Now
COOKIE USAGE:
The University of Nebraska uses cookies to give you the best online experience. By clicking "I Agree" and/or continuing to use this website without adjusting your browser settings, you accept the use of cookies.