COVID-19 UPDATE: NU is open. Faculty/staff are working in-person and campuses are open for in-person learning this fall.
MORE INFO
Ryan
Lieske
Supporting Hometown Healthcare
Meet a physician assistant caring for patients while supporting the health of the economy
Ravenna, Nebraska has dealt with a few challenges in recent years. The railroad doesn't stop there anymore. The elevator closed. As a community of 1,300, sustaining businesses in town is crucial to its economic health—not to mention, the health of its citizens.
But one person helping to keep Ravenna strong is physician assistant and University of Nebraska Medical Center graduate, Ryan Lieske. An Arapahoe, Nebraska native, Lieske was already a trusted healthcare provider for the town clinic. And when—for the second time in 10 years—it became clear the clinic may close, Lieske stepped forward to take over its ownership.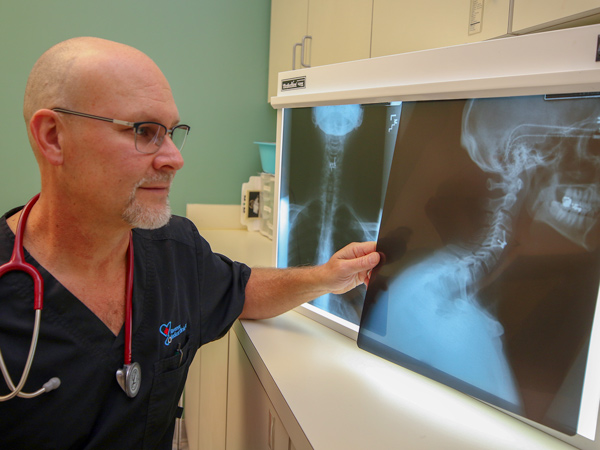 For town leaders like Dana Denison, executive director of Ravenna Economic Development, the value of successes like this can't be underestimated.
"Ryan is a huge part of the community and has built relationships," Dennison said. "I really believe people have this bond with him. He's excellent at what he does. He goes above and beyond with people and connects with them."
UNMC's work in graduating medical professionals isn't only keeping Nebraskans healthy; it's supporting a strong state economy, too. According to an independent third-party study, UNMC/Nebraska Medicine graduates working in Nebraska generate an economic impact of $3.9 billion. These graduates are located in rural and urban areas to meet the health care needs of Nebraskans.
UNMC/Nebraska Medicine graduates working in Nebraska generate an economic impact of $3.9 billion.
In one fiscal year, UNMC/Nebraska Medicine and its affiliates supported nearly 30,000 jobs for the state—in everything from the healthcare sector, to indirect industries like real estate, commercial construction, restaurants, retail, and wholesale trade. UNMC/Nebraska medicine also generates $99.1 million per year in tax revenue.
Lieske has been heartened by his adopted hometown's response to having a local healthcare provider. "We now see the majority of people," he said. "They know they'll see the same face every day." And none of them have to drive to another town to have their basic medical care needs met.
With continued support of the University of Nebraska, the economic health of the state, and the wellbeing of Nebraskans rural and urban, are in good hands.
Pictured in the header photo from left to right: Dana Denison, executive director of Ravenna Economic Development and Ryan Lieske.
Your story is just as personal and powerful as the ones above. Take a moment to tell it to your senator, and share why it's critical to invest in the University of Nebraska. It only takes a few minutes to send a personal email or make a phone call. Here's how to do it.
Contact Your State Senator
Join us in growing a strong future for Nebraska. When you become an NU Advocate, you'll be among the first to hear about important issues, key legislative bills and upcoming advocacy events. With knowledge and resources, it's easy to help make a difference.
Join Now
COOKIE USAGE:
The University of Nebraska uses cookies to give you the best online experience. By clicking "I Agree" and/or continuing to use this website without adjusting your browser settings, you accept the use of cookies.