Creating a Sound Foundation for Hearing Improvement
By Ryan Rothman
A car passing by. The clicks on a computer keyboard. A conversation with friends or family around the dinner table. These are things often heard daily–but not by everyone.
A billion and a half people, or around 20 percent of the global population, are estimated to be deaf or hard of hearing. In the U.S., one to three of every 1,000 babies are born with some degree of hearing difficulty. And in Nebraska, hearing difficulties affect at least 75,000 people of all ages.
At the University of Nebraska–Lincoln, Professor of Practice Stacie Ray is helping to make sure all Nebraskans have access to hearing health care. And to her, that mission is as personal as it gets: Her first son was diagnosed as deaf at 17 months old.
At the age of three, her son received a cochlear implant that allowed him to perceive sound, making him the first child in Lincoln Public Schools with the technology. A few weeks following the surgery, he was out on the back deck of their house. He excitedly came in and signed to Stacie asking about a noise he had never heard before. The noise? The song of birds.
In Nebraska, hearing difficulties affect at least 75,000 people of all ages.
"I never in a million years thought that technology could bring that to my son," Ray said. "In that moment, I knew this what I had to do for a living."
Ray graduated from UNL in 2002 with an M.S. in audiology, and two years later, began work on a Clinical Doctorate of Audiology (Au.D.). She was hired to advise UNL audiology students in 2004 and has been at the university since. Today, Ray has a multifaceted role: providing audiology services directly to members of the local community—and while she's seeing patients, training future audiologists.
Meeting Nebraska's Needs
UNL's Au.D. program is located at the Barkley Memorial Center on East Campus. The program prepares students for careers in clinical practice and research supporting those with hearing and balance difficulties. The Au.D. degree is required to become an audiologist, and UNL's program is the only one in the state—and one of only a few in the Midwest.
"There are only seven or eight programs in surrounding states, so we serve a great need to put audiologists into the workforce," Ray said.
The program utilizes spiral curriculum, like what students would see in medical school. Key concepts are presented repeatedly during the four-year program, but with deeper levels of complexity and application each year.
"Each step of the way, we are assessing the students," Ray said. "When they graduate, students are well prepared for the challenging jobs ahead of them."
Outcomes show success across the board: 100% of students in the program complete their degree on time, pass their certification exam and are placed in jobs in the field. And by the end of their program, nearly every student has received funding to help with the cost of education—from graduate and teaching assistant roles to student worker positions.
"Everything that we do transfers directly to work in the clinic."
The program is critically important in meeting Nebraska's health care needs, especially in rural areas. Only two audiologists are practicing west of Kearney. One of those two audiologists is Caitlin Nichols, a 2021 graduate of the program. After graduation, Nichols moved to western Nebraska with her husband and found an opportunity to practice through the Morrill County Community Hospital in Bridgeport, southeast of Scottsbluff. As the only audiologist on staff, she credits the program as key to getting her practice up and running:
"Everybody at the university was encouraging and helpful in getting me the resources I needed to start the practice," Nichols said. "Most importantly, they helped me find other audiologists to talk to about what my clinic could look like."
Hands-on in Clinics, Classrooms and Labs
Learning through hands-on experience is a key tenet of the Au.D. program. Both Ray and Nichols believe that the program's location at the Barkley Memorial Center are foundational to student success. The Barkley Speech Language and Hearing Clinic is in the same building and provides a wide range of services to the general public, including connecting low-to-mid income individuals with services for speech, language, hearing and balance disorders.
"Our Au.D. students start in the clinic from day one. Most other programs don't offer that opportunity. Students may sit out or observe for their first semester or year," Ray said. "We throw our students right in—not to sink but to swim, to gain the best skills possible."
Students work with state-of-the-art technology during their program, including simulation equipment and industry software for practicing hearing aid and cochlear impact fittings. They also have access to labs where faculty are conducting audiology-related research. A typical day for Ray and her students shows the deep connections between curriculum, facilities and faculty:
"I might teach something about compression of hearing aids. Then Dr. Mark Brennan, who leads our amplification lab, will come in and talk about the impacts of compression on speech perception. In the afternoon, we'll use simulated learning equipment and work through case studies.
"Everything that we do transfers directly to work in the clinic."
By the time they graduate, students are exposed and trained on equipment audiologists use—in the settings they're used in.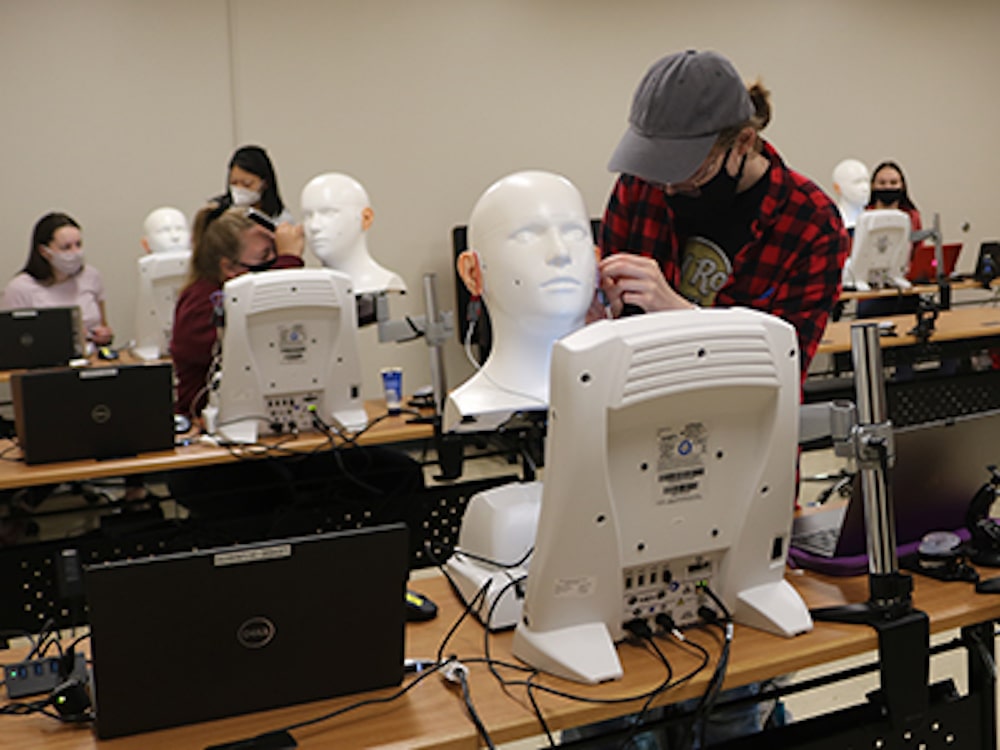 And doctoral students aren't the only ones learning. Ray often works with undergraduate students and looks for ways to get them exposure to knowledge and skills they wouldn't typically see until graduate school. She believes that it helps draw those students into the field and encourages them to apply to the Au.D. program.
Amplifying Resources Across the State
For those suffering from untreated hearing loss or hearing difficulties, the impacts can be devastating. Research shows a connection between cognitive decline and hearing, and individuals with untreated hearing loss have higher prevalence of anxiety, loneliness, isolation, and declines in overall health. There can be many barriers to treatment. Time off work for appointments can be difficult to get, the financial cost of care is high, and travel for those living in rural areas can take hours—if not a full day.
Ray has a personal understanding of these barriers. She and her husband were young parents working part time and attending the university when their son was diagnosed. Hearing aids weren't covered by their insurance, and they took out a personal loan to cover the cost—paying back the hearing aids with interest over several years. She recalls lying in bed many nights thinking that there must be a different way:
"Parents should not have to choose between putting food on the table, a roof over their family's head, or hearing aids that will connect their children to the world around them."
In 2007, Ray founded HearU Nebraska, a pediatric hearing aid bank. It provides new hearing aids at no cost for children aged 0-18 from low-to-mid income families. It's one of three hearing aid banks run by the audiology program that serve deaf and hard of hearing Nebraskans through their entire lifespan. This is unique to Nebraska. The Lions and Sertoma Hearing Aid Banks serve Nebraskans aged 19-64 and 65+ and distribute donated and refurbished hearing aids at low cost. All three banks have a statewide reach through partner locations.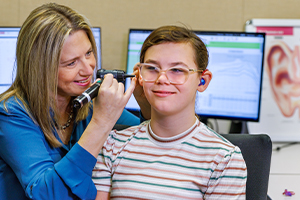 Collectively, they are called the Nebraska Hearing Aid Banks, and Ray serves as their director. She believes that one of the greatest impacts of the Nebraska Hearing Aid Banks is their ability to meet Nebraskans where they're at.
"These are the people who are living in our communities. They're contributing to our communities. We have to see them, know who they are, and work together."
Growing up in a rural community herself, Ray understands that for many, it's harder to prioritize care when you must travel a long distance to get the service you need.
"We are able to offer services to patients and give them access to sound when and where they need it," she said.
And while Ray enjoys working with patients in-person in the Barkley Clinic, she knows the impact is felt by Nebraskans across the state.
"I have the pleasure of serving people directly. But it's just as much of an honor to serve people that I never meet."
Serving our Youngest Citizens
While access to services is important for all Nebraskans, it's especially important for our youngest citizens. If children with hearing difficulties are identified and treated through early intervention, they're able to develop in close alignment with their peers. If a lack of financial resources or access for the parents impacts treatment, that child's development could be delayed, perhaps through their entire life.
UNL's audiology program works closely with the state's Early Hearing Detection and Intervention program to ensure access for infants for hearing difficulties. The goal is screening by one month of age, diagnosis by three months, and treatment by six months. And the program is successful: 99.4% of infants in Nebraska are screened before they leave the hospital.
"Parents should not have to choose between putting food on the table, a roof over their family's head, or hearing aids that will connect their children to the world around them."
To help reach the goal, Ray's colleagues are also focused on increasing access to hearing health care for Nebraskans. Dr. Hannah Ditmars performs remote evaluations on infants in western Nebraska in partnership with a Teacher of the Deaf and Hard of Hearing at an ESU, and Dr. Michelle Hughes conducts important research with the aim of expanding access for cochlear implant recipients through telepractice. These types of remote evaluations and treatments are critically important in rural areas because they reduce travel time and allow children to be seen within their own communities, or a community nearby, instead of needing to travel to Denver or Kearney.
Nichols frequently works with pediatric patients but doesn't have the equipment necessary to evaluate infants herself. She cites the university and ESU partnership as one of the most valuable resources she has access to:
"Because my clinic is so new, screening equipment isn't something we've had budget for," she said. "Being able to refer patients and their parents to the university's telehealth program has been incredible."
Providing care to the youngest Nebraskans is something that both Nichols and Ray take great pride in. Ray reflected on a visit to her hometown of Ashton, Nebraska, and a moment she shared with a father and son after noticing the young boy's green John Deere hearing aid ear molds:
"I went to talk to the dad and said, 'I love your son's hearing aids.' I remember him saying to me, 'We couldn't have done it without the University of Nebraska.' And I knew that was because of our program."
Discover our Podcast Series
The "Leading Nebraska" podcast shares the stories of the researchers, students, teachers and others across the University of Nebraska's four campuses who are making an impact. From teachers and doctors to engineers and ag experts, these Nebraska leaders are touching lives and making a difference.
Find Your Nebraska State Senator
Get started by entering your address below. Next, you'll receive information on who your senator is—and how to reach him or her.
Making a call only takes a few minutes and sends a strong message to your state senator. Your senator may not be able to take the call, but you can speak to the legislative aide who works for the senator. They will log your call, take a message and pass it on. Keep your conversation brief, and be sure to cover these essential points:
Introduce yourself as a constituent in their district and provide your name.
Be clear that you're calling about your support for the University of Nebraska System.
Share your story about how the University has impacted you or your family. A personal story is hard to ignore. Explain why it's important to you that your senator invests in the University of Nebraska. Again, keep it brief and to-the-point.
Ask for your opinion to be noted. Politely finish the call by thanking the senator or legislative aide for their time.
Send an Email
Sending a written message to your state senator is an easy way to engage your representative. They're more concise and easier to respond to, and they're more likely to be viewed by the senator. If you can, send a personalized message with these essential points. Keep your message brief (a paragraph or so).
Write a personal, attention-getting subject line that lets the senator know your topic— "Investing in the University of Nebraska System" or "Supporting the University of Nebraska System"
Introduce yourself as a constituent in their district; provide your name.
Be clear that you're writing about your support for the University of Nebraska System
Share your personal story about how the University has impacted you or your family. Explain why it's important to you that your senator invests in the University of Nebraska. Again, keep it brief and to-the-point.
Ask if your senator will support the University moving forward.
Indicate that you'd appreciate a reply and thank your senator for their time.
You Just Made a Difference
Keep making a difference by becoming an NU Advocate. As an Advocate, you'll receive communications about important issues and legislative bills concerning the University of Nebraska—and you'll be the first to hear about upcoming advocacy events. And, we'll let you know when you need to raise your voice again.
COOKIE USAGE:
The University of Nebraska System uses cookies to give you the best online experience. By clicking "I Agree" and/or continuing to use this website without adjusting your browser settings, you accept the use of cookies.