COVID-19 UPDATE: NU is open. Faculty/staff are working in-person and campuses are open for in-person learning this fall.
MORE INFO
Liaquat
Hossain
Training Cyber Defense Professionals
Kearney, Nebraska is Home to the Next World-Class Cyber Systems Program
You can expect most major companies to have IT teams. But at a time when businesses—and the U.S. government—are more protective than ever of sensitive information and money, many organizations are seeking expert help. Businesses and national security groups want cybersecurity professionals on staff—immediately—and they're willing to invest in hiring top talent.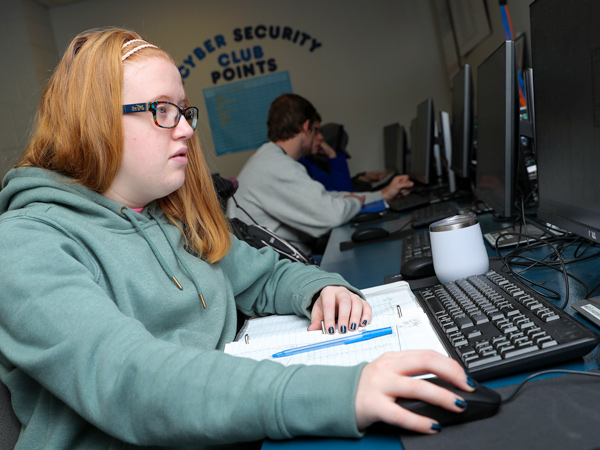 The University of Nebraska at Kearney is meeting the demand by offering students a cybersecurity operations major. It's one of only a handful of learning institutions in the Midwest to do so. Liaquat Hossain, chair of the UNK cyber systems department, believes the university has the potential to create a world-class educational program. He's so confident in the potential of the program, he left his position at the University of Hong Kong to take the position at UNK.
Liaquat has good reason to be positive. UNK is scheduled to complete a new STEM building in spring 2020. The $30 million, 90,000-square-foot facility will promote collaboration and innovation across numerous academic departments in the science, technology, engineering, and math fields. Liaquat is imagining a transformational cyber systems department involving all three academic colleges at UNK. After all, he argues, technology impacts every occupation, from cyberbullying and online education in K-12 schools, to national cybersecurity, to GPS-guided machinery on Nebraska farms.
"Companies are offering an average salary of $100,000 for cybersecurity professionals."
UNK's cybersecurity operations major prepares students with hands-on, in-depth, technical training. Because professionals in this field are in such high demand, companies are offering them an average salary of $100,000. UNK's cyber systems department includes more than 150 students pursuing a major or minor in the field. Most of them will complete an internship during their time at UNK and many will have a job lined up before graduation. The program had a job placement rate of 100% in 2018, with three quarters of those grads choosing to stay in Nebraska.
With an impressive new facility, a strong career outlook for students, and world-class potential, UNK is continuing to keep the University of Nebraska at the front of the pack in a competitive security field. As the University continues to receive support from its state, the future looks bright for cybersecurity job training.
Your story is just as personal and powerful as the ones above. Take a moment to tell it to your senator, and share why it's critical to invest in the University of Nebraska. It only takes a few minutes to send a personal email or make a phone call. Here's how to do it.
Contact Your State Senator
Join us in growing a strong future for Nebraska. When you become an NU Advocate, you'll be among the first to hear about important issues, key legislative bills and upcoming advocacy events. With knowledge and resources, it's easy to help make a difference.
Join Now
COOKIE USAGE:
The University of Nebraska uses cookies to give you the best online experience. By clicking "I Agree" and/or continuing to use this website without adjusting your browser settings, you accept the use of cookies.