COVID-19 UPDATE: NU is open. Faculty/staff are working in-person and campuses are open for in-person learning this fall.
MORE INFO
Christie
Barnes
iEXCEL and Medical Training Models
Developing a Training Model to Aid Accurate COVID-19 Testing
Millions of frontline workers across the world are performing nasal swabs to detect COVID-19. But, swabbing can produce false negative results when not done correctly—and can also injure patients with certain nasal conditions. A simple procedure has many chances for error.
Now, UNMC's iEXCEL team—in collaboration with campus health professionals—has created an advanced training model to help improve the skills of health workers performing these swabs. Medical training models help both students and professionals understand the proper alignment, techniques and movement when performing procedures.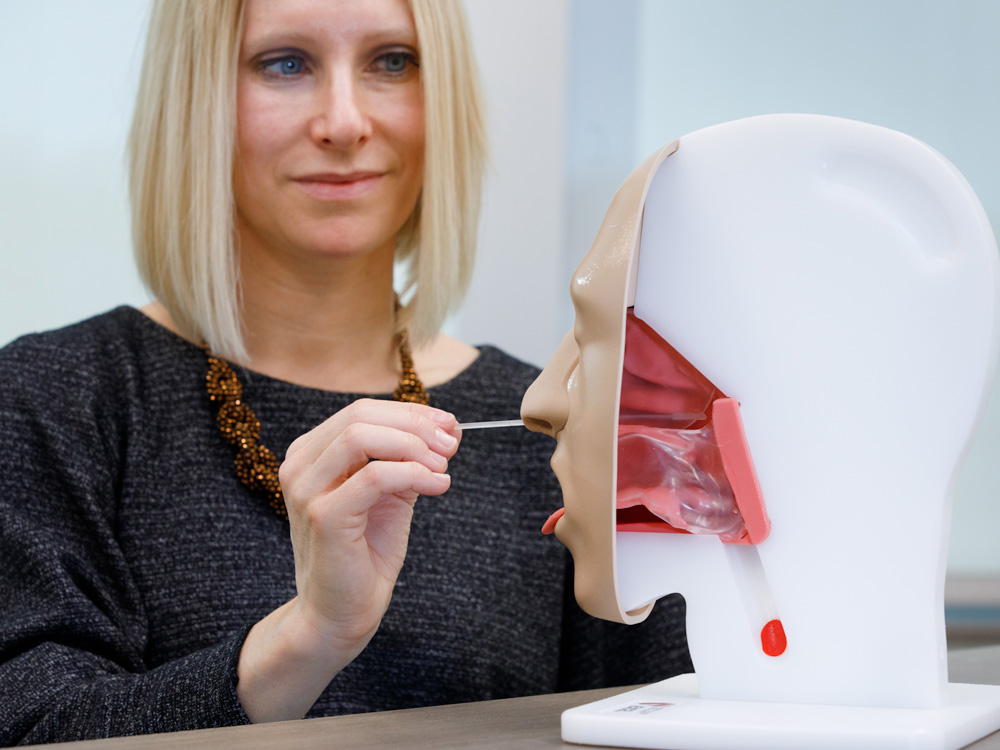 Practicing Swabbing in a Risk-Free Environment
Using simulators in skills training not only improves technique, but does so in an environment where patients—and outcomes—are not at risk. It also allows health professionals to train safely and judgement-free. Trainees can practice on the anatomically correct manikin, which includes a color-coded indicator that provides feedback on whether they are performing the procedure properly.
"The keys to a proper nasopharyngeal swab has to do with the trajectory of the swab—the direction in which you are inserting it, as well as the depth," said Christie Barnes, an assistant professor and rhinologist in the UNMC Department of Otolaryngology-Head and Neck Surgery. "The manikin has key landmarks that help make the proper trajectory clear."
Barnes was part of a team that created the nasal swab model, which included other UNMC faculty members, iEXCEL team members, Nebraska Medicine and UNeMed. As they saw the trajectory of swabs being performed on TV news and heard reports from other health professionals on swabbing, they knew there was an opportunity for education.
"When we were faced with this pandemic, we realized that millions of frontline workers were having to learn a procedure that they had never done before or were not as familiar with."
–Dr. Christie Barnes
Blending Artistry and Technology
Advanced training simulators incorporate elements of design, visual effects and digital video. In addition to the guidance and input of surgeons, physicians and teaching hospitals, many medical model companies also work with sculptors, fabricators, engineers and model makers.
The Chamberlain Group, who created UNMC's anatomically accurate model to mimic tissues and structures of the oral and nasal cavities, is familiar with both technology and artistry. Early in their careers, founders Lisa and Eric Chamberlain worked in the visual effects industry on such feature films as "Superman," "Predator," "Eraser" and "The Matrix". The group has been designing, developing and manufacturing anatomical models for clinical training for more than two decades.
This kind of simulation and visualization won't just benefit frontline workers learning swabbing techniques. iEXCEL, the visionary program at UNMC that helped develop this model, emphasizes experiential learning. From augmented and virtual reality to lifelike patient models, technology like this will reshape the way in which health care education is delivered.
Your story is just as personal and powerful as the ones above. Take a moment to tell it to your senator, and share why it's critical to invest in the University of Nebraska. It only takes a few minutes to send a personal email or make a phone call. Here's how to do it.
Contact Your State Senator
Join us in growing a strong future for Nebraska. When you become an NU Advocate, you'll be among the first to hear about important issues, key legislative bills and upcoming advocacy events. With knowledge and resources, it's easy to help make a difference.
Join Now
COOKIE USAGE:
The University of Nebraska uses cookies to give you the best online experience. By clicking "I Agree" and/or continuing to use this website without adjusting your browser settings, you accept the use of cookies.