COVID-19 UPDATE: NU is open. Faculty/staff are working in-person and campuses are open for in-person learning this fall.
MORE INFO
Amy
Sokoll
uBEATS Online Health Science Curriculum
Creating E-Modules that Make STEM Click for Students
As a science teacher at Valley View Middle School in Elkhorn, Amy Sokoll (far right) knows that her students are in the perfect position to discover a lifelong love for STEM (science, technology, engineering, math) subjects. But they also have many other courses and interest areas competing for their attention. So, how can teachers like Sokoll more easily bring STEM into the classroom, putting kids on a path to strong career opportunities?
She's one of many Nebraska teachers taking advantage of—and contributing to—the uBeats Online Health Science Curriculum, online science e-modules covering topics that aren't covered in regular science classes. uBeats is a product of a partnership between UNMC and UNO; a spinoff of the highly successful UNMC High School Alliance.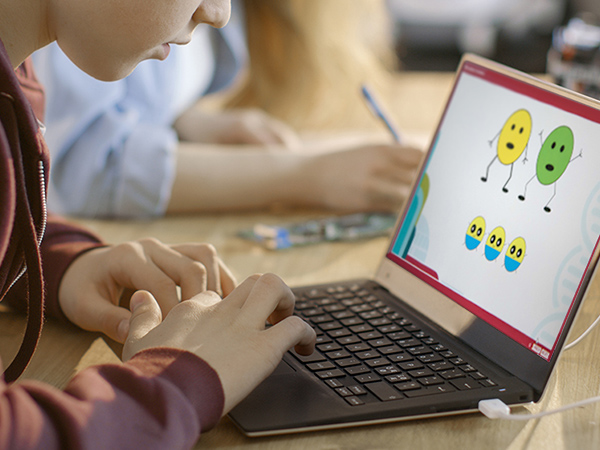 uBeats combines all the benefits of today's connectivity to make science come alive for middle and high school students. Students and other experts at UNO are invited to create the modules based on their particular area of focus—whether that module is a game, a quiz, or something entirely new. This creative freedom, guided by UNMC faculty members, results in lessons that help students experience STEM in completely new ways.
A graduate of UNO herself, Sokoll says this approach to learning can help a new student catch up on material, or for a student with a unique learning style to hear about the topic from a new voice. "Having a different way to explain it, having a different modality to learn it, and hearing from a different voice can be pretty helpful for kids." Teamed with her Valley View colleague Crista Goehring, and Omaha Marian science teacher Sharon Genoways, Sokoll helped design an e-module based on Mendelian Genetics for uBeats.
Best of all, uBeats is available completely free to Nebraska teachers and students. The e-modules are designed to give classroom teachers the control to assign curriculum as they see fit. The technology is available 24/7—all a classroom needs is an internet connection.
uBeats combines all the benefits of today's connectivity to make science come alive for middle and high school students.
Peggy Moore, the UNMC director of E-Learning, sees a compelling opportunity in investing in projects like this. "uBeats is an excellent example of maximizing resources across the colleges to increase our impact and build something truly valuable, and we hope it will be the new norm."
Pictured in the header photo, from left to right: Crista Goehring, Sharon Genoways and Amy Sokoll, Omaha teachers who helped design a uBeats e-module.
Your story is just as personal and powerful as the ones above. Take a moment to tell it to your senator, and share why it's critical to invest in the University of Nebraska. It only takes a few minutes to send a personal email or make a phone call. Here's how to do it.
Contact Your State Senator
Join us in growing a strong future for Nebraska. When you become an NU Advocate, you'll be among the first to hear about important issues, key legislative bills and upcoming advocacy events. With knowledge and resources, it's easy to help make a difference.
Join Now
COOKIE USAGE:
The University of Nebraska uses cookies to give you the best online experience. By clicking "I Agree" and/or continuing to use this website without adjusting your browser settings, you accept the use of cookies.