Rebecca
Lutte
aviation institute
How a Flyover State Has the Solution for Aviation's Workforce Shortage
As passenger traffic continues to climb for the aviation industry, demand continues to rise for a skilled workforce who prefer to spend their working hours with their head in the clouds.
Whether it's working for a large airline or a small commercial aviation business, statistics show that demand for pilots is far outpacing supply. A 2019 report by Boeing projects that the United States alone will need 212,000 new pilots over the next 20 years.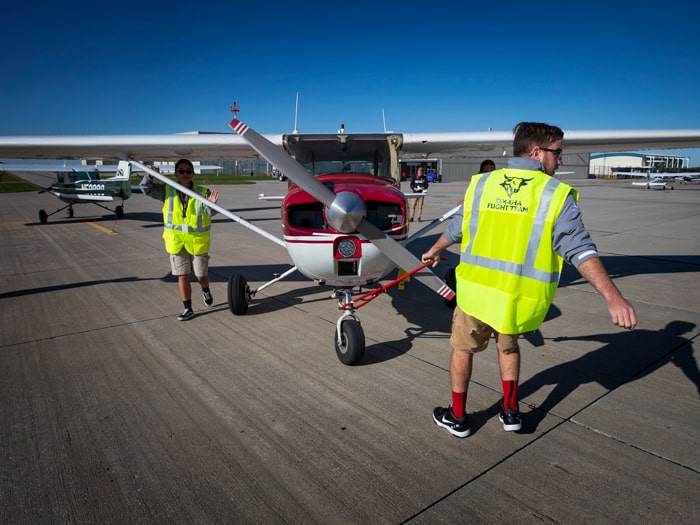 Rebecca Lutte, Ph.D., is an associate professor in the Aviation Institute at the University of Nebraska at Omaha. To address the workforce shortage in aviation, her research has found the industry only needs to attract a more diverse hiring pool.
"In order to address the global workforce needs, the aviation industry needs to do a better job at recruitment and retention of underrepresented groups in aviation," said Lutte.
Data from the Federal Aviation Administration show that in 2018, just over seven percent of all pilots were women. And in 2018, women comprised only about five percent of all pilots for commercial airlines globally.
Fortunately, UNO has the resources and forward-thinking leadership to address the disparity, preparing students for these careers.
"Aviation continues to be a major growth area for universities."
"University aviation programs, such as those at UNO's Aviation Institute (UNOAI), play an essential role in filling the pipeline for the demand for pilots," Lutte said. "Enrollment at U.S. university aviation programs has increased by over 70 percent in the last four years and the UNOAI has experienced year-over-year record enrollments in the flight program. Aviation continues to be a major growth area for universities."
In 2019, UNO's Aviation Institute announced that it was one of just four collegiate aviation programs nationwide to partner with Southwest Airlines for its Destination 225° pilot pathways program. With the help of industry partners like Jet Linx Aviation, the program provides UNO students with a direct pathway to gain the education and training they need to ultimately apply for selection as a Southwest Airlines First Officer.
UNO's focus on developing talent for the aviation industry—supporting underrepresented groups in particular—is one way the university is putting Nebraska on the map. Thanks to the ongoing financial support of the University of Nebraska, UNO can remain on the cutting edge of this exciting career opportunity for graduates.
Your story is just as personal and powerful as the ones above. Take a moment to tell it to your senator, and share why it's critical to invest in the University of Nebraska. It only takes a few minutes to send a personal email or make a phone call. Here's how to do it.
Contact Your State Senator
Join us in growing a strong future for Nebraska. When you become an NU Advocate, you'll be among the first to hear about important issues, key legislative bills and upcoming advocacy events. With knowledge and resources, it's easy to help make a difference.
Join Now
COOKIE USAGE:
The University of Nebraska uses cookies to give you the best online experience. By clicking "I Agree" and/or continuing to use this website without adjusting your browser settings, you accept the use of cookies.