COVID-19 UPDATE: NU is open. Faculty/staff are working in-person and campuses are open for in-person learning this fall.
MORE INFO
Jacob
Nutter
next program
This UNK Program Gives Students a Foot in the Door and Keeps Them in Nebraska
"If students want multiple job offers before graduation, it begins with an internship or some kind of experiential learning component, in addition to academics," said Dustin Favinger, director of the College of Business and Technology Career Center at the University of Nebraska at Kearney.
But for many students, the path to making early connections isn't so straightforward. And what if you want to seek a position outside the obvious options for your degree?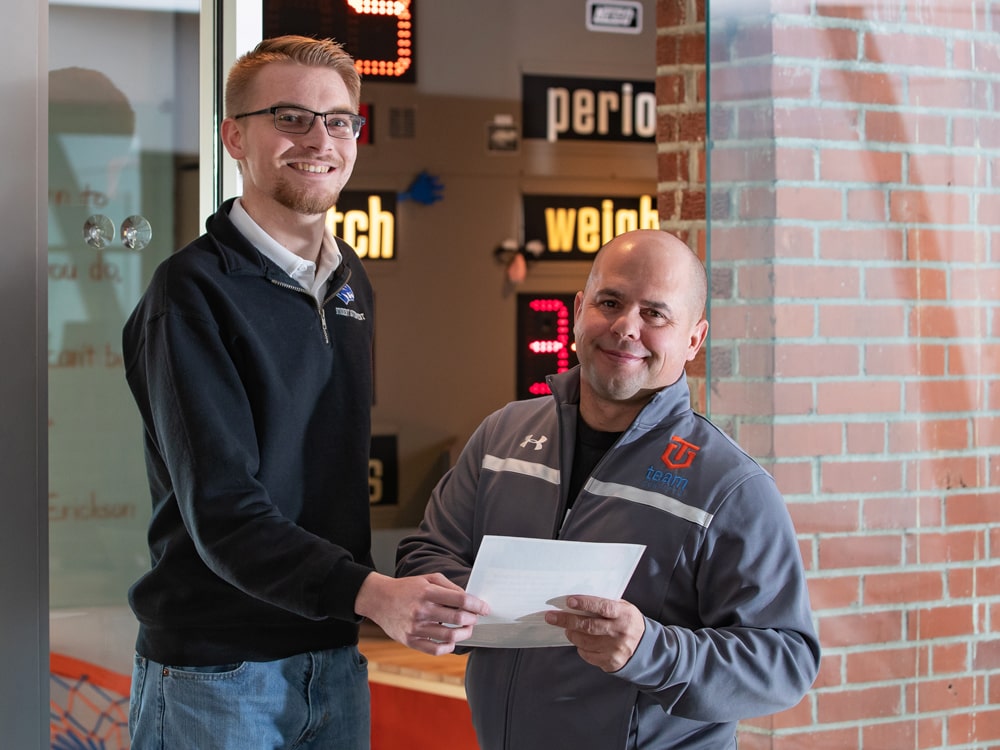 That's why UNK launched NEXT in partnership with the Kearney Area Chamber of Commerce. It's a business leadership program that helps students develop their leadership and professional skills while providing avenues to network and explore different industries.
NEXT is how Jacob Nutter, a computer science student originally from Geneva, became a marketing director for Team Concepts, which specializes in teambuilding and leadership training. While he was familiar with the company as a student, he met owner Josh Erickson through NEXT.
"It's a really cool company," Nutter said. "It's been fun working for them."
And NEXT isn't only hooking students up with cool companies. It has the added effect of keeping talent in the Kearney area, rather than allowing those promising graduates to be lured out of the state—or to larger cities. According to Nutter, the possibilities for career growth in Kearney can't be ignored.
"I don't think people realize how much Kearney has to offer."
"I don't think a lot of people realize how much Kearney has to offer," said Nutter, who recommends the NEXT program for students interested in learning more about the community and its businesses.
Favinger has seen firsthand how the NEXT program is expanding opportunities for UNK grads.
"A great way to get that experiential piece is to step outside your comfort zone and network with employers and community members. Participating in this program allows students to do that."
When one considers the financial impact of investing in talented graduates who can grow the local workforce, it's a move we can't afford to not make.
Your story is just as personal and powerful as the ones above. Take a moment to tell it to your senator, and share why it's critical to invest in the University of Nebraska. It only takes a few minutes to send a personal email or make a phone call. Here's how to do it.
Contact Your State Senator
Join us in growing a strong future for Nebraska. When you become an NU Advocate, you'll be among the first to hear about important issues, key legislative bills and upcoming advocacy events. With knowledge and resources, it's easy to help make a difference.
Join Now
COOKIE USAGE:
The University of Nebraska uses cookies to give you the best online experience. By clicking "I Agree" and/or continuing to use this website without adjusting your browser settings, you accept the use of cookies.