COVID-19 UPDATE: NU is open. Faculty/staff are working in-person and campuses are open for in-person learning this fall.
MORE INFO
Brandon
Drozd
health careers club
Creating a Pipeline of Rural Healthcare Professionals
There are 93 counties in Nebraska. And if you leave out Douglas and Lancaster, none of them have enough primary care physicians for patient needs. On top of that, one in five physicians is older than 65 and nearing retirement. So where can Nebraska search for fresh talent to bolster its healthcare roster?
Turns out, the answer is right here.
The University of Nebraska at Kearney is leading the charge to get rural high school students interested in healthcare sciences before they even decide where to go to college.
"Students who get their education in a rural setting are more likely to stay and work in a rural area."
"One of the things we recognize is students who get their education in a rural setting are more likely to stay and work in a rural area," says Brandon Drozd, program coordinator for the Central Nebraska Area Health Education Center at UNK.
Drozd is in charge of a Health Careers Club affiliated with the university. Its membership includes juniors and seniors from smaller, rural schools—the kind that don't have the same career exploration programs you find at bigger high schools.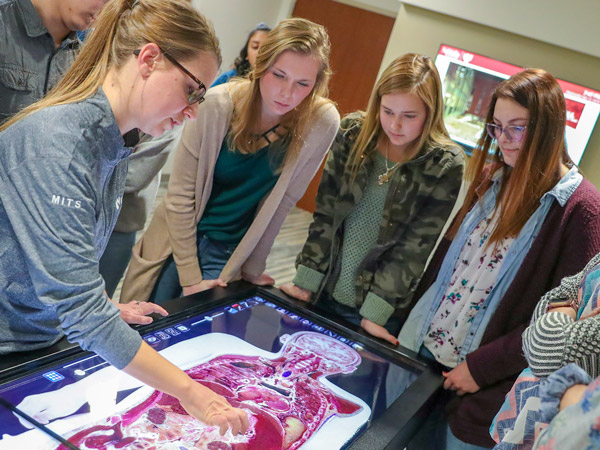 Connecting with students before they make a college decision is no coincidence. If you're still imagining what your future career could look like, it's pretty impactful to visit medical facilities and get hands-on with equipment while talking to the pros. Students in the club get to meet once a month for those kinds of field trips, and they also talk to college students and faculty to hear more about the field.
With its Health Science Education complex, a $19 million state-of-the-art facility that opened in 2015 in collaboration with UNMC, UNK is prepared to support those students should they choose to become Lopers. Enrollment in health science programs is up 33 percent over the past four years, and it's the largest academic department on campus.
With continued support of efforts like the Health Care Club and the complex, the solution to Nebraska's healthcare shortage may be just a few years—and a few degrees—away.
Listen to more "Leading Nebraska" stories or follow our podcast

Your story is just as personal and powerful as the ones above. Take a moment to tell it to your senator, and share why it's critical to invest in the University of Nebraska. It only takes a few minutes to send a personal email or make a phone call. Here's how to do it.
Contact Your State Senator
Join us in growing a strong future for Nebraska. When you become an NU Advocate, you'll be among the first to hear about important issues, key legislative bills and upcoming advocacy events. With knowledge and resources, it's easy to help make a difference.
Join Now
COOKIE USAGE:
The University of Nebraska uses cookies to give you the best online experience. By clicking "I Agree" and/or continuing to use this website without adjusting your browser settings, you accept the use of cookies.