COVID-19 UPDATE: NU is open. Faculty/staff are working in-person and campuses are open for in-person learning this fall.
MORE INFO
Nora
Arellano
Solving the Nursing Shortage
Meeting Nursing Students Where They Are
As the "Baby Boomer" generation ages, the need for nursing care is expected to grow beyond levels our current healthcare system can handle. According to the U.S. Census Bureau, by 2050, the number of U.S. residents age 65 and older is expected to double from 2012 levels. Adding to the challenge, the American Association of Colleges of Nursing reports that nursing schools were forced to turn away more than 75,000 qualified applicants in 2018 due to insufficient faculty, clinical sites, and more.
The University of Nebraska Medical Center is facing this uphill climb with a full-force effort to bring more nurses into the fold. The key is to meet students where they are—in their life, and in their hometown. One such student impacted by UNMC's strategy is Nora Arellano.
"I saw UNMC had a nursing program in Norfolk," she said. "I didn't have to be hours away from my family to get a University of Nebraska education."
"I didn't have to be hours away from my family to get a University of Nebraska education."
Arellano is balancing her nursing career with caring for her two children, both under the age of 10.
"Going through the program with young kids was definitely tough. But I became really good friends with a couple of my classmates who also had kids, and we kind of bonded over that. 'How do you do it?' and things like that. I don't know if I would have been able to do it without my support system, if I had to move away. I don't know what my future would have been if I didn't have the UNMC program here in Norfolk."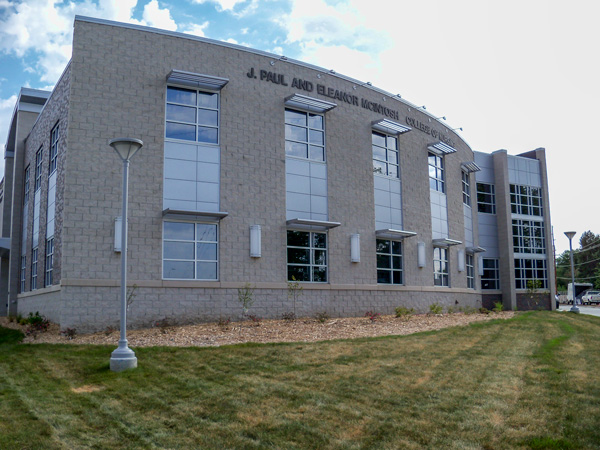 UNMC's program is bringing the latest in nursing education to students in more places, operating divisions in Omaha, as well as Lincoln, Kearney, Scottsbluff, and Norfolk. Using UNMC's vast instruction resources and modern facilities, students at each location receive the same education, and interact with fellow students and faculty throughout the state. By graduation day, they're more than prepared to join the workforce. Arellano turned her hands-on training into a job at Faith Regional Health Services in Norfolk.
"We already got our toes wet in the hospital in clinical rotations—we got to talk to managers and nurses and do projects in the hospital that let them get to know us," Arellano said. "They were already trying us out."
More resources for nursing instruction mean more qualified nurses, happier families, a healthier economy…and a stronger Nebraska.
Listen to more "Leading Nebraska" stories or follow our podcast

Your story is just as personal and powerful as the ones above. Take a moment to tell it to your senator, and share why it's critical to invest in the University of Nebraska. It only takes a few minutes to send a personal email or make a phone call. Here's how to do it.
Contact Your State Senator
Join us in growing a strong future for Nebraska. When you become an NU Advocate, you'll be among the first to hear about important issues, key legislative bills and upcoming advocacy events. With knowledge and resources, it's easy to help make a difference.
Join Now
COOKIE USAGE:
The University of Nebraska uses cookies to give you the best online experience. By clicking "I Agree" and/or continuing to use this website without adjusting your browser settings, you accept the use of cookies.