COVID-19 UPDATE: NU is open. Faculty/staff are working in-person and campuses are open for in-person learning this fall.
MORE INFO
Stan
Clouse
university village project
New Project Ensures Kearney is "Open for Business" Now More than Ever
"The value of the University of Kearney cannot be overstated. The university drives our economy in so many ways."
Stan Clouse should know—as a UNK alumnus and the mayor of Kearney, he's well aware of the city's economic impact in Buffalo County and the state as a whole. Just drive around and look at all of the traffic–on streets and inside stores. Convention business is strong, hotels are full, entertainment districts are hopping and ribbon cuttings are continuous.
"The university drives our economy in so many ways."
"The city of Kearney plays an important role in the economic development and growth of central Nebraska," he said. "Having UNK and its resources in our city is one of the things that sets us apart from other communities our size."
UNK's $265 million annual economic impact on Nebraska is only expected to grow with the development of an exciting new project: University Village. Spanning 100-plus acres, there will be offices for businesses and nonprofits, as well as technology-rich spaces that link people from across the state through virtual meetings and presentations. The building will host job fairs, campus and community events, guest lectures, public hearings, government meetings, and countless other business engagements.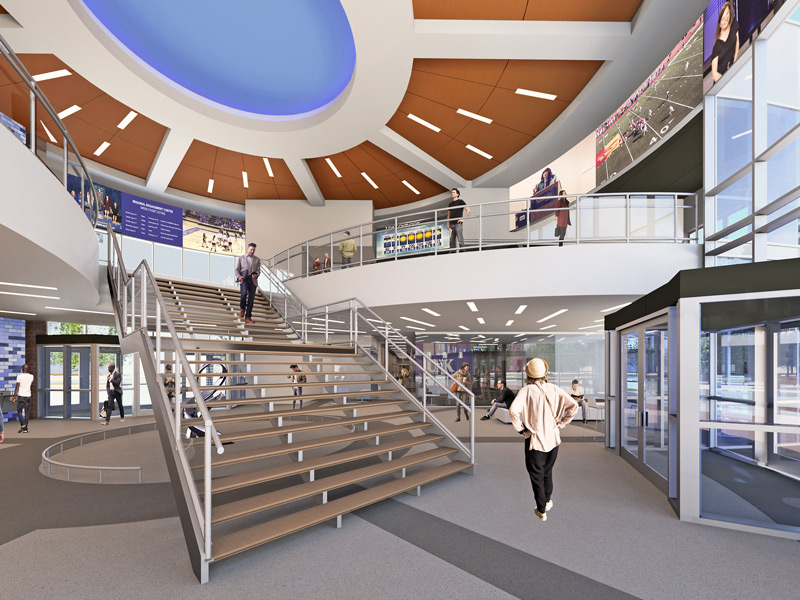 By providing access to office and meeting space and a large pool of potential employees, the engagement center will attract outside investors, create business opportunities and grow the economy in Kearney and across the state, Clouse added.
Naturally, the project is expected to result in increased job demand. And UNK is already supporting students to successfully fill those roles.
"UNK takes seriously its role of preparing students for the workforce. We also are sincere and deliberate about helping companies and organizations collaborate, expand, innovate and succeed," said UNK Chancellor Doug Kristensen.
In Kearney, one in eight residents hold a degree from UNK, which is growing and retaining a talented labor force that will continue to benefit the region and attract new businesses to the area. Only by ensuring that UNK, and the University of Nebraska as a whole, are supported, can this growth in activity be maintained—and, as Mayor Clouse puts it often, keep Kearney "open for business."
Your story is just as personal and powerful as the ones above. Take a moment to tell it to your senator, and share why it's critical to invest in the University of Nebraska. It only takes a few minutes to send a personal email or make a phone call. Here's how to do it.
Contact Your State Senator
Join us in growing a strong future for Nebraska. When you become an NU Advocate, you'll be among the first to hear about important issues, key legislative bills and upcoming advocacy events. With knowledge and resources, it's easy to help make a difference.
Join Now
COOKIE USAGE:
The University of Nebraska uses cookies to give you the best online experience. By clicking "I Agree" and/or continuing to use this website without adjusting your browser settings, you accept the use of cookies.