Katie
Thompson
labor & delivery in rural areas
Broken Bow Welcomes Back its In-Town Labor and Delivery Care
For residents in urban Nebraska, labor and delivery of a newborn begins with a quick trip to a nearby hospital. But for many in the rest of the state, new parents need to pack up the car and drive to another county to have their baby delivered safely.
That was the case for two years in Broken Bow at the Jennie M. Melham Medical Center. A shortage in staff and physicians who could perform Cesarean sections caused a hiatus in labor and delivery services.
According to U.S. Census data, an average of 35 babies are born in Broken Bow annually. If those families have to take their medical needs elsewhere—Kearney, Hastings or North Platte—they could end up traveling about 2,500 miles in the course of one pregnancy. What's more, they could spend up to $1,275 each in fuel and other traveling expenses, according to the Custer County Economic Development Corporation.
"Access to services could save a family $1,275 every pregnancy."
There are also significant health risks involved with traveling for labor and delivery. According to a recent report from the Center for Medicare and Medicaid Services, lack of access increases out-of-hospital births and poor outcomes such as preterm births. For some mothers, fear of not reaching a hospital in time results in early elective delivery; inductions that occur before 39 weeks are risky for mothers and babies.
The desire for rural communities to avoid these challenges is widespread, and competition for hiring physicians is stiff–with many counties vying to attract top talent to their medical centers. So it was especially good news when Dr. Katie Thompson signed on to join the Central Nebraska Medical Center.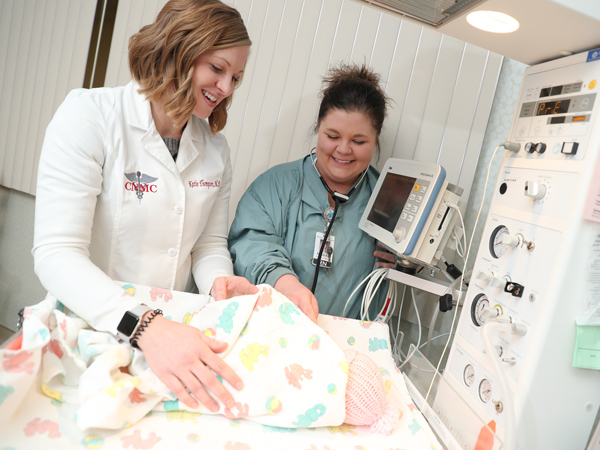 Dr. Thompson, a Valentine native, is a family practice physician who also performs C-sections. Because she grew up in a rural area, she knew she wanted to someday work in a small town, providing family medicine. She went on to become a Rural Health Opportunities Program (RHOP) student at Wayne State College, a cooperative pipeline with UNMC and Nebraska's state colleges to develop rural health care talent.
Dr. Thompson is also a mother herself and looks forward to helping more babies come into the world in their hometown.
"I think being, you know, a younger female who has a family of my own there's just kind of something very special and really cool about being able to bring life into this world, and so being a part of that is really a wonderful experience," Dr. Thompson said in a report for Sandhills Express.
The continued financial support of UNMC—who trains the physicians for rural clinics and medical centers—isn't just about convenience for families. It's about keeping Nebraskan newborns and their mothers safe and healthy, which causes a positive ripple effect throughout the state.
Contact Your State Senator Now
Your story is just as personal and powerful as the ones above. Take a moment to tell it to your senator, and share why it's critical to invest in the University of Nebraska. It only takes a few minutes to send a personal email or make a phone call. Here's how to do it.
Contact Your State Senator
Join us in growing a strong future for Nebraska. When you become an NU Advocate, you'll be among the first to hear about important issues, key legislative bills and upcoming advocacy events. With knowledge and resources, it's easy to help make a difference.
Join Now