COVID-19 UPDATE: NU is open. Faculty/staff are working in-person and campuses are open for in-person learning this fall.
MORE INFO
Up Next
Megan Adkins-Bollwitt
Megan
Adkins-Bollwitt
physical education training
Energizing Future Physical Education Teachers with Meaningful Experiences
According to the U.S. Bureau of Labor Statistics, the national demand for middle and high school educators with a college degree is expected to grow steadily through 2026. Physical education teachers, in particular, are an essential influencer in young students' lives, especially when many children and adolescents aren't meeting CDC-recommended levels of physical activity.
The University of Nebraska at Kearney is addressing the national demand for quality physical education with well-rounded training for tomorrow's PE teachers.
Megan Adkins-Bollwitt is an associate professor in UNK's Kinesiology and Sports Sciences Department, preparing students for successful careers as PK-12 (pre-kindergarten through 12th grade) PE instructors. UNK's approach includes different teaching methods and plenty of opportunities to work with students directly.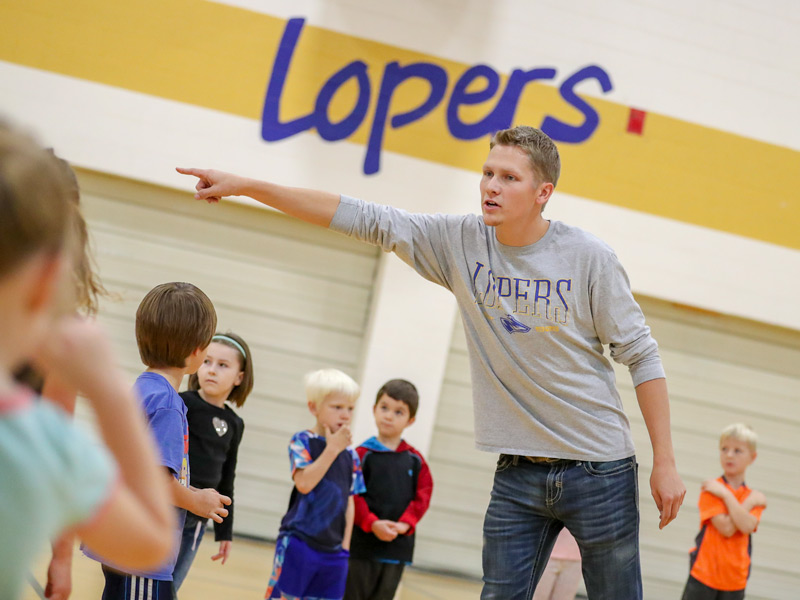 UNK students train for their careers by first observing, then working directly with children in a variety of age groups — setting them up for success when they enter the workforce as educators. On average, a UNK student will spend more than 100 hours with PK-12 students before they even begin student-teaching.
"It's a good way for our students to understand how to deliver a lesson and at the same time begin to learn that classroom management piece." Adkins-Bollwitt said.
UNK leverages partnerships with Kearney Public Schools and Nebraska Kids Fitness and Nutrition Day to bring future teachers and PK-12 students together. During their last semester on campus, they teach physical education classes twice a week at Zion Lutheran School in Kearney.
To prepare UNK students for lesson planning, they participate in a unique program for home-schooled students. Roughly 100 area home-schooled students visit campus each Friday during the fall and spring semesters for classes instructed by the future PE teachers of UNK. It's a chance to create lesson plans, design activities, and instruct children of a variety of ages.
"When you sit down for an interview, they love that you go to UNK."
"If students have a good experience in physical education, we're hoping that translates to a lifetime of fitness," Adkins-Bollwitt said. The ample pre-professional teaching opportunities aren't only helping keeping Nebraska's youngest students healthier. It's strengthening the job prospects for UNK students when they graduate.
"I think UNK has the best PE program out there," said UNK senior Brendan Blackburn. "When you sit down for an interview, they love that you go to UNK because of the experience you have."
Your story is just as personal and powerful as the ones above. Take a moment to tell it to your senator, and share why it's critical to invest in the University of Nebraska. It only takes a few minutes to send a personal email or make a phone call. Here's how to do it.
Contact Your State Senator
Join us in growing a strong future for Nebraska. When you become an NU Advocate, you'll be among the first to hear about important issues, key legislative bills and upcoming advocacy events. With knowledge and resources, it's easy to help make a difference.
Join Now
COOKIE USAGE:
The University of Nebraska uses cookies to give you the best online experience. By clicking "I Agree" and/or continuing to use this website without adjusting your browser settings, you accept the use of cookies.