COVID-19 UPDATE: NU is open. Faculty/staff are working in-person and campuses are open for in-person learning this fall.
MORE INFO
Guy
Trainin
Teachers Scholars Academy
How the University is Taking the State's Most Promising Future Educators to the Next Level
The new Teachers Scholar Academy at the University of Nebraska–Lincoln isn't for everyone. But for incoming college students interested in pushing the education field forward, it's a once-in-a-lifetime opportunity.
This selective new academy for aspiring teachers will invite up to 40 education students to live and learn together at UNL, with its graduates positioned to become teaching innovators for the 21st century. The program will launch in fall 2019. Guy Trainin, chair of the Department of Teaching, Learning and Teacher Education, says it's intended to challenge the students, academically and personally.
"This program is going to be more challenging than ordinary teacher education."
"It's going to take grit—this program is going to be more challenging than ordinary teacher education," he said. "Nevertheless, academy students will live and study in a supportive community with a diverse, dynamic and vibrant group of peers. Those one-to-one connections will not only fuel creative collisions and new ideas, they will provide a bedrock of support as each student discovers and stretches their strengths."
It's the type of program one could only find at a leading public research institution like UNL. Participating students will receive mentoring and specialized support, participate in service learning and research projects, and engage in cutting-edge teaching activities. In return, students will receive four-year scholarships to cover up to 30 credit hours a year, and up to $8,000 toward the cost of housing, meals, books and fees.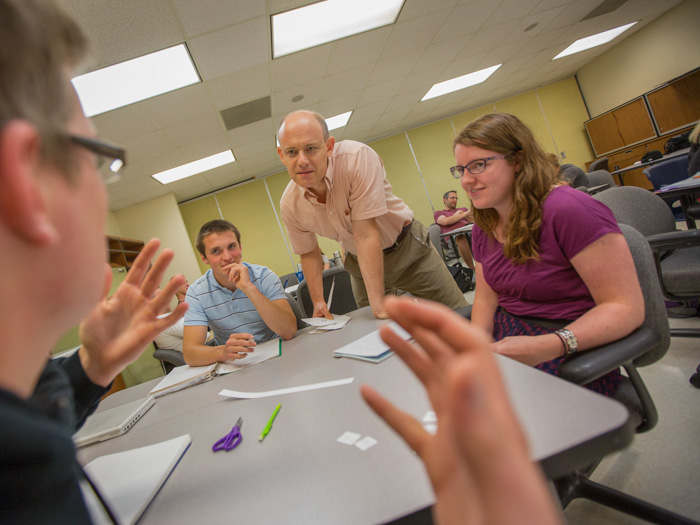 "This is a chance to do something different," Trainin said. "We have school models that were developed in the 19th and 20th centuries trying to prepare the students of the future. New teachers who want to be part of solving this problem will need to be adept in research, innovation and community involvement."
UNL is at the forefront of energizing the teaching profession. By taking action to better prepare teaching professionals, Nebraska's students will be better prepared for the workforce—and prepared to move the entire state forward.
Listen to more "Leading Nebraska" stories or follow our podcast

Pictured in the header and inset photo: Associate professor Guy Trainin, right, works with students in his SPED 406A Reading Center Practicum.
Your story is just as personal and powerful as the ones above. Take a moment to tell it to your senator, and share why it's critical to invest in the University of Nebraska. It only takes a few minutes to send a personal email or make a phone call. Here's how to do it.
Contact Your State Senator
Join us in growing a strong future for Nebraska. When you become an NU Advocate, you'll be among the first to hear about important issues, key legislative bills and upcoming advocacy events. With knowledge and resources, it's easy to help make a difference.
Join Now
COOKIE USAGE:
The University of Nebraska uses cookies to give you the best online experience. By clicking "I Agree" and/or continuing to use this website without adjusting your browser settings, you accept the use of cookies.