Jurge
Cruz
Social Strategy in Rural Nebraska
Bridging the Digital Divide for Rural Communities
The charm of Nebraska's rural communities is special, something that deserves to be shared. And these towns just wouldn't be the same if mom and pop shops are forced to close due to pressure from larger chain stores. The secret to helping these communities thrive into the future is actually a classic value: connection.
University of Nebraska Omaha senior Jurge Cruz is all about connection. As part of a project with the UNO Social Media Lab, he's working with community partners to help towns position themselves on social media, and learn how to share what they offer for Nebraska. Cruz isn't helping mayors choose emojis or business owners write captions. He's teaching them how to take a deeper, more analytical look at their social media strategy—determining influencers, mapping social interactions. Cruz says the digital divide often draws the line between success and failure in rural towns.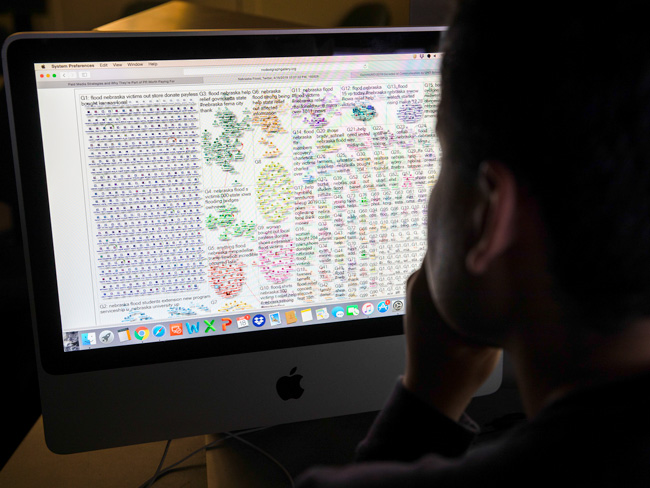 Ravenna, Nebraska is one of three communities involved in the project, which was launched in partnership with the Rural Futures Institute. Cruz didn't only work with business owners, but also community leadership.
"This project was the push we needed to do all of the things we knew we were supposed to be doing," Ravenna community partner Gena McPherson said. "We have seen a steady evolution and are getting more connected every day and are actually exploring new opportunities of better ways to stay in touch with the community."
Towns like Ravenna are already seeing the results of Cruz's work, sometimes generating 2,000 views for Facebook live videos—an impressive number for a town with a population of about 1,300.
"We want them to know that social media can work for them to directly impact their communities."
The project is mutually beneficial for Cruz, who's looking to build a career in the flourishing digital marketing and social media field. Jobs in this career path are projected to grow at a steady rate for years to come, and this kind of hands-on experience gives Cruz the competitive edge he needs to stand out.
Cruz's story is just one example of how the University enriches what makes Nebraska one-of-a-kind, all while developing tomorrow's talent. Just imagine how many more stories can come from the University when it has the support of its communities.
Your story is just as personal and powerful as the ones above. Take a moment to tell it to your senator, and share why it's critical to invest in the University of Nebraska. It only takes a few minutes to send a personal email or make a phone call. Here's how to do it.
Contact Your State Senator
Join us in growing a strong future for Nebraska. When you become an NU Advocate, you'll be among the first to hear about important issues, key legislative bills and upcoming advocacy events. With knowledge and resources, it's easy to help make a difference.
Join Now
COOKIE USAGE:
The University of Nebraska uses cookies to give you the best online experience. By clicking "I Agree" and/or continuing to use this website without adjusting your browser settings, you accept the use of cookies.