COVID-19 UPDATE: NU is open. Faculty/staff are working in-person and campuses are open for in-person learning this fall.
MORE INFO
Kazuma
Akehi
Injury Prevention Research
How One Athletics Scientist is Changing the Game with Specialized Research
Kazuma Akehi is no stranger to athletics. Growing up in Asahikawa, Japan, he was an avid basketball, soccer and baseball player who also enjoyed skiing and snowboarding. These days, he's an assistant professor of kinesiology and sports sciences at the University of Nebraska at Kearney. His area of focus is the influence of season-long competitive sports on muscles. Specifically, he looks at muscle thickness and other muscular architecture characteristics.
"There's not a lot of people doing this type of research."
"There's not a lot of people doing this type of research," he said. "Professional journals often focus on concussions, shoulder problems, knee problems and major injuries. What I'm doing is taking an in-depth look at muscles and nerves."
Considering the research could help predict when an injury will occur during the season, it would be a welcome contribution to the sports science world. His work also aims to assess how muscles heal using specific therapeutic treatments, and whether the injured muscle will regain its previous thickness and strength.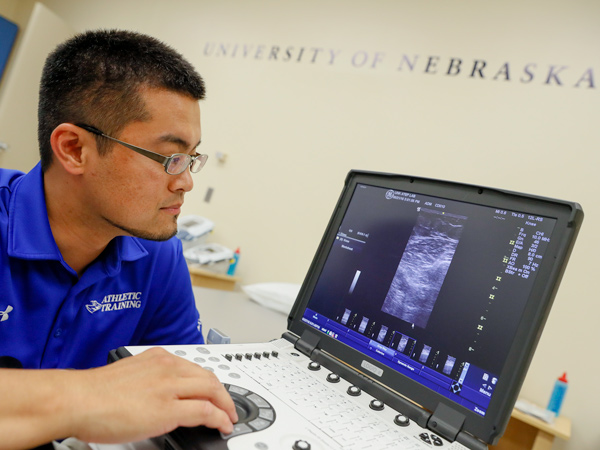 To complete his research, Akehi studied 18 female soccer players through an entire season, measuring the athletes every four weeks using diagnostic ultrasound. He's hoping to determine how thigh muscle morphological (structure-related) characteristics changed throughout the season. The traditional method for this studying involves using a simple tape measure, which can't isolate each muscle and its changes.
This research could inform athletes of their risk factors for injury during a collegiate sports session. According to Akehi, while athletes have a high risk for ACL ruptures, female athletes have three to five times higher risk for injury than male athletes. In his study of the female soccer players, he was also monitoring the post-knee surgery of two who had suffered ACL sprains. The diagnostic ultrasound can signal to Akehi whether their physical therapy and training is effective.
"It's really unique research. This research provides us with good information that enables us to enhance some of the training or rehabilitation protocols," he said.
Thanks to the resources afforded to Akehi by his university, he can continue his important work in preventing athletic injuries.
Your story is just as personal and powerful as the ones above. Take a moment to tell it to your senator, and share why it's critical to invest in the University of Nebraska. It only takes a few minutes to send a personal email or make a phone call. Here's how to do it.
Contact Your State Senator
Join us in growing a strong future for Nebraska. When you become an NU Advocate, you'll be among the first to hear about important issues, key legislative bills and upcoming advocacy events. With knowledge and resources, it's easy to help make a difference.
Join Now
COOKIE USAGE:
The University of Nebraska uses cookies to give you the best online experience. By clicking "I Agree" and/or continuing to use this website without adjusting your browser settings, you accept the use of cookies.