COVID-19 UPDATE: NU is open. Faculty/staff are working in-person and campuses are open for in-person learning this fall.
MORE INFO
Shahnaz
Benner
College of Nursing
Providing a Flow of New Nurses During a Critical Time
With thousands ill and hospitals seeing an increased number of COVID-19 patients, the pandemic has put nurses on the front lines of the battle against COVID-19. Time Magazine declared frontline healthcare workers as 2020's "Guardians of the Year"—acknowledging the courage, dedication and sacrifice displayed by nurses caring for those who are ill.
One of these nurses is Shahnaz Benner, a University of Nebraska Medical Center College of Nursing graduate. A registered nurse, Benner regularly practices how to treat infectious diseases. She has worked at Nebraska Medicine as an ER nurse for the past 11 years; Benner also serves as the clinical program coordinator for their 10-bed biocontainment unit, where she provides staff members with education and training on dealing with highly hazardous infectious disease. Between her ER work and the biocontainment unit; she's treated more than a hundred COVID or COVID-suspected patients.
"I want to be able to increase access to those who are struggling to receive care—and to promote health and well-being for others in our community."
–Shahnaz Benner
Benner graduated with her bachelor's in nursing from UNMC in 2015. "Nursing is a job that's always needed, wherever you go—because healthcare is needed wherever you go," she said.
Nebraska's Nursing Situation
Nurses are certainly needed in Nebraska.
Our state's nursing shortage, most severe in small towns and rural areas, affects both Nebraska's physical health and its economic health. Lack of care impedes the ability of communities throughout the state to draw residents and the businesses that employ them. The state's current nursing shortfall is at 20%—nearly 4,000 nurses—and is projected to rise to 34% by 2025. Six counties in NE have no registered nurses. And about half of all Nebraska nurses will retire in the next 10 years.
The pandemic has only amplified the need. Across the country and in Nebraska, nurses are burned out from months of treating COVID-19 patients. Some have paused their careers to care for children or parents who are ill or immunocompromised. When nurses become sick themselves, that increases the pressure on other nursing staff.
Addressing the Shortage
It is critical to have a flow of new nurses to fill the increased demand, and UNMC is rising to the occasion. Half of Nebraska's nurses with bachelor's degrees are UNMC graduates, and more are needed. As part of its continuing effort to address Nebraska's nursing shortage, the Medical Center is expanding programs to train new nurses—and adding advancement options to help current nurses gain new knowledge, skills and degrees.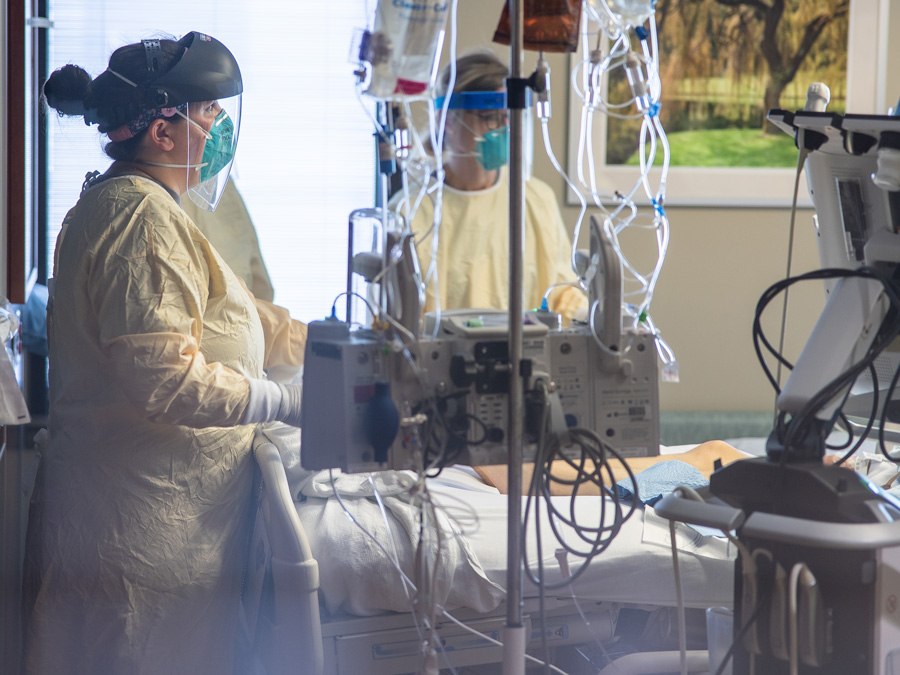 Examples include a distance education program that allow RNs with an associate degree to advance to a bachelor's degree, an accelerated BSN program for students with a bachelor's degree in another field and a certificate program for internationally educated nurses—as well as new master's degree and nurse practitioner programs.
Nurses like Benner are excited about the opportunities UNMC is providing. "I knew I wanted to progress with my education and just needed to find the right time to return," said Benner. "Working in the emergency department has shown me that there are a lot of gaps in healthcare and limited resources to many populations in our community." She is currently working on her master's degree in nursing at UNMC, which will prepare her to be a family nurse practitioner.
"I want to be able to increase access to those who are struggling to receive care—and to promote health and well-being for others in our community."
Your story is just as personal and powerful as the ones above. Take a moment to tell it to your senator, and share why it's critical to invest in the University of Nebraska. It only takes a few minutes to send a personal email or make a phone call. Here's how to do it.
Contact Your State Senator
Join us in growing a strong future for Nebraska. When you become an NU Advocate, you'll be among the first to hear about important issues, key legislative bills and upcoming advocacy events. With knowledge and resources, it's easy to help make a difference.
Join Now
COOKIE USAGE:
The University of Nebraska uses cookies to give you the best online experience. By clicking "I Agree" and/or continuing to use this website without adjusting your browser settings, you accept the use of cookies.