COVID-19 UPDATE: NU is open. Faculty/staff are working in-person and campuses are open for in-person learning this fall.
MORE INFO
Keely
Buesing
Lifesaving Medical Technology
Bringing Oxygen to Injured Soldiers on the Battlefield
If a civilian suffers a traumatic lung injury, he or she will likely require a ventilator to help them breathe. But if you're a solider being transported for medical care, the tools to save your life aren't so easy to access.
That's why UNMC's Dr. Keely Buesing and a collaborative team of researchers are developing a portable alternative for oxygen delivery. In the event of severe respiratory distress syndrome, the new system they're creating would be used to save warfighters' lives on the way to the hospital.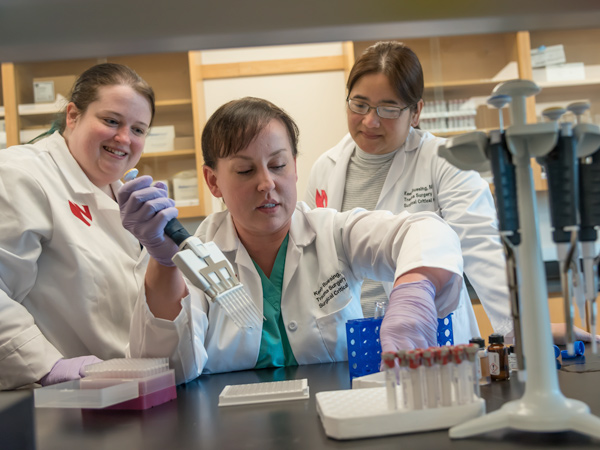 When the lungs can't do their job, this new system transforms the abdomen into a kind of third lung. It will deliver oxygenated microbubbles into the abdomen, providing oxygen the solider needs to maintain organ function while his or her lungs recover.
"In order for lungs to heal, they need to rest. The best way is to provide oxygen through another means," says Buesing.
The team also hopes to develop a chest tube system that could deliver the microbubbles.
All of this work is possible thanks to a Department of Defense (DoD) Air Force contract awarded to the University's National Strategic Research Institute (NSRI). The NSRI is one of 13 University Affiliated Research Centers across the nation delivering relevant and timely research solutions that directly impact DoD operations and national security. The Air Force is responsible for advancements in en route patient care for warfighters, which is why it has an interest in this project.
"The DoD has now rewarded three contracts to the University for this project, the most recent totaling $3.8M."
The DoD has now rewarded three contracts to the University for Buesing's project, the most recent totaling $3.8M. Researchers hope this six-year contract, which began in September 2018, will take their work all the way to the beginning of FDA trials.
Like Buesing's work, research at the University of Nebraska has a significant and important impact. It's not only bringing the University national attention that pushes the state forward. It's saving the lives of our service members on the battlefield. And that's a cause worth fighting for.
Your story is just as personal and powerful as the ones above. Take a moment to tell it to your senator, and share why it's critical to invest in the University of Nebraska. It only takes a few minutes to send a personal email or make a phone call. Here's how to do it.
Contact Your State Senator
Join us in growing a strong future for Nebraska. When you become an NU Advocate, you'll be among the first to hear about important issues, key legislative bills and upcoming advocacy events. With knowledge and resources, it's easy to help make a difference.
Join Now
COOKIE USAGE:
The University of Nebraska uses cookies to give you the best online experience. By clicking "I Agree" and/or continuing to use this website without adjusting your browser settings, you accept the use of cookies.