COVID-19 UPDATE: NU is open. Faculty/staff are working in-person and campuses are open for in-person learning this fall.
MORE INFO
Hannah
Esch
Engler Program
UNL Student Gets a Taste of Owning a Beef Business Thanks to Gift
When money is invested in students, they'll take it far. Just look at Husker Hannah Esch. She knows how to juggle priorities. She's an ace at balancing classes, tests and projects—and now, running her own business.
As a student enrolled in the University of Nebraska–Lincoln's Engler Agribusiness Entrepreneurship Program, Esch knew her classroom pursuits would look different from those of her classmates, but she never expected she'd be running a business before graduating.
The experiences she had through the Engler Program and as a Nebraska Beef Ambassador revealed an opportunity in the beef industry. Ecsh, a senior animal science major, realized there was a disconnect between many producers and their consumers, and she decided to start her own farm-to-table beef supplier: Oak Barn Beef. It officially became a limited liability company in 2018.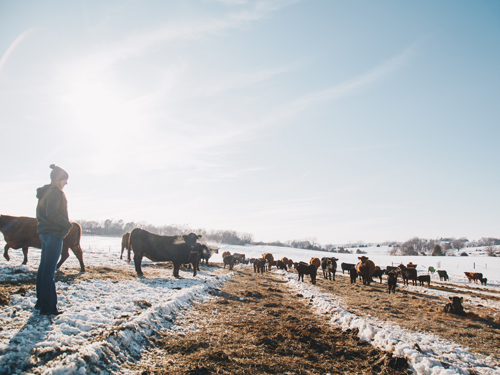 The Engler Program was founded in 2010, with a gift from the Paul F. and Virginia J. Engler Foundation to establish a student program focused on entrepreneurship. It's already had a positive impact on the state. About 90% of the 160 alumni of the program have remained in Nebraska or the Great Plains region, launching more than 60 new enterprises.
Engler students are encouraged to take a different approach to learning. Director Tom Field said the program endeavors to build a community of students and alumni, learning from and supporting one another, much like a family.
"Our mission is to create the mindset of an owner, not an employee," Field said.
Esch said she wouldn't have been able to get Oak Barn Beef off the ground without the Engler Program.
Engler alumni and its network of faculty and staff work with current students, offering mentorship and coaching. The students are also supported with more than $200,000 in scholarships awarded yearly, and events are centered around putting students into entrepreneurial ecosystems.
"We are growing entrepreneurs, because they'll grow Nebraska."
"You learn as you go," Hannah said. "And they're there to help you learn."
Encouraging the ambition of students like Hannah Esch can't happen without the continued support of the University of Nebraska. Perhaps Field put it best: "At the Engler Program, we are growing entrepreneurs, because they'll grow Nebraska. We'll grow our state one small business at a time."
Your story is just as personal and powerful as the ones above. Take a moment to tell it to your senator, and share why it's critical to invest in the University of Nebraska. It only takes a few minutes to send a personal email or make a phone call. Here's how to do it.
Contact Your State Senator
Join us in growing a strong future for Nebraska. When you become an NU Advocate, you'll be among the first to hear about important issues, key legislative bills and upcoming advocacy events. With knowledge and resources, it's easy to help make a difference.
Join Now
COOKIE USAGE:
The University of Nebraska uses cookies to give you the best online experience. By clicking "I Agree" and/or continuing to use this website without adjusting your browser settings, you accept the use of cookies.