Harold
Sargus
Preventing Nebraska Brain Drain
How one university is retaining talent while pushing Nebraska businesses forward.
Nebraska is home to impressively low unemployment, low cost of living, and many growing businesses. Still, it's natural for new college grads to set their sights outside the state for their first job.
Harold Sargus is giving them a reason to stay.
As a manager with the Nebraska Business Development Center (NBDC) at the University of Nebraska at Omaha (UNO), Sargus works with state businesses to create the kinds of workplaces new graduates want to join.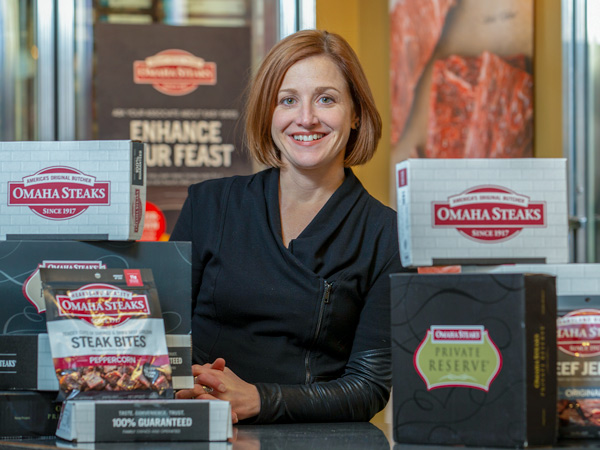 Recently, Omaha Steaks approached NBDC with the goal of fostering a more innovative culture at its offices. NBDC assisted in putting Omaha Steaks on the path to success, first with training in project management, leadership, and presenting. To stress test the new training program, Omaha Steaks invited 25 of its employees to present ideas to the executive leadership board, Shark Tank-style. The objective? Present a strategy for either increasing revenue or saving money.
"Our executive team was presented with these new opportunities," said Lyndsey Hansen, a business and IT analyst at Omaha Steaks. "And for them to see the passion that their employees have for these projects, that has had a huge impact."
Employees presented 23 projects, eight of which are now in different stages of implementation at the company. Omaha Steaks even revived the training program a second year to include participants from its locations across the U.S.
In 2017, NBDC estimated its total economic impact on the state was $496.5 million.
The collaboration with Omaha Steaks is just one example of how NBDC is helping Nebraska businesses become more appealing to graduates. What student wouldn't be interested in a company that values ongoing education and fresh ideas?
In 2017 NBDC estimated its total economic impact on the state was $496.5 million. This was driven by everything from consulting on packaging, assisting with applications for government contracts, improving processes, identifying customer leads, commercializing products, and much more.
With the help of UNO and leaders like Sargus, Nebraska companies can continue to offer the workplace cultures and jobs that keep students right here in the good life. Along the way, they're sure to power plenty of money back into Nebraska's economy, which benefits all of us.
Listen to more "Leading Nebraska" stories or follow our podcast

Your story is just as personal and powerful as the ones above. Take a moment to tell it to your senator, and share why it's critical to invest in the University of Nebraska. It only takes a few minutes to send a personal email or make a phone call. Here's how to do it.
Contact Your State Senator
Join us in growing a strong future for Nebraska. When you become an NU Advocate, you'll be among the first to hear about important issues, key legislative bills and upcoming advocacy events. With knowledge and resources, it's easy to help make a difference.
Join Now
COOKIE USAGE:
The University of Nebraska uses cookies to give you the best online experience. By clicking "I Agree" and/or continuing to use this website without adjusting your browser settings, you accept the use of cookies.