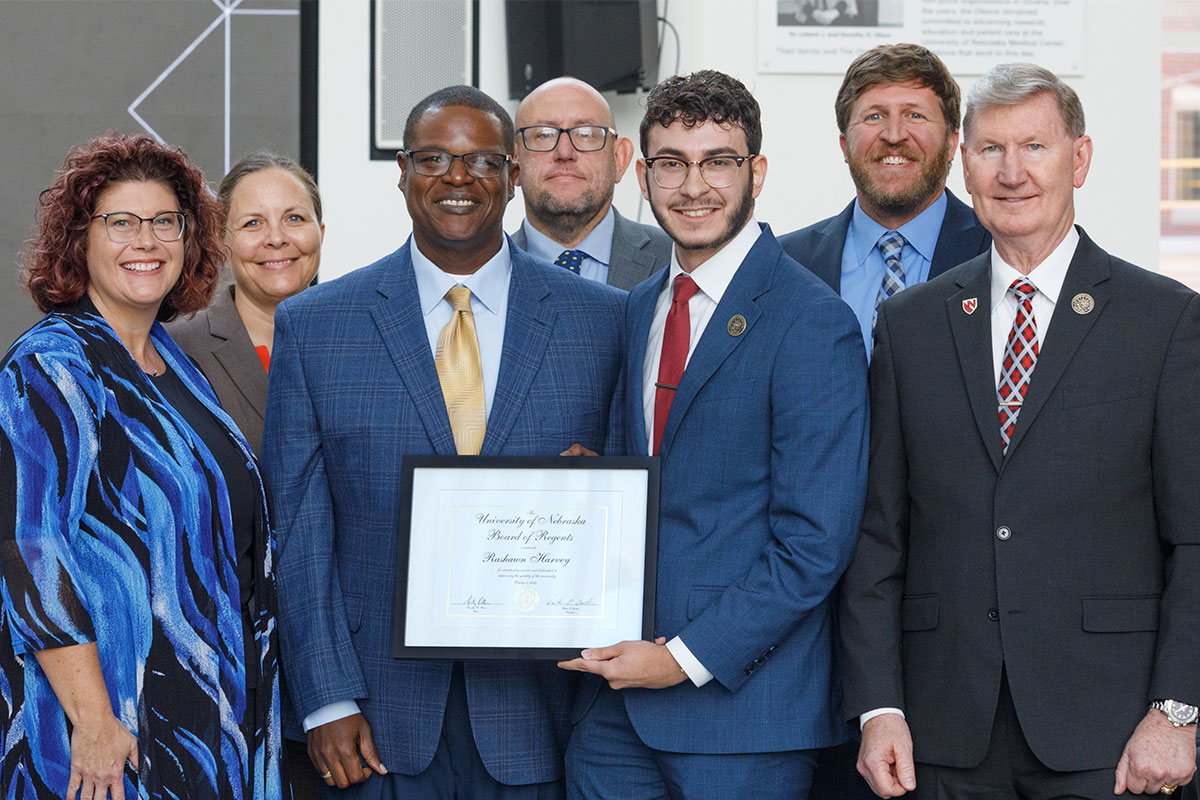 On behalf of the Board of Regents, I am pleased to introduce, from the University of Nebraska at Kearney, Assistant Director of TRIO Student Support Services, Rashawn Harvey.
Rashawn is known for student success and helping students overcome barriers as he advises 92 TRIO students, inspiring them through meaningful one-on-one relationships, motivational speeches at TRIO events, and leadership in the classroom.
TRIO refers to federal programs created to increase access for first-generation students, students with disabilities, and students who meet federal income guidelines, so they can achieve good academic standing while improving retention and graduation rates.
Rashawn relates to TRIO participants because he was one. Rashawn was in UNK's first TRIO class. He found the support and guidance he needed and is passionate about giving back.
He tells students TRIO is here to help them navigate the higher ed road to graduation and countless students have walked the commencement stage due, in part, to the support they have received from him. The national slogan is "TRIO Works," and he lives that every day.
Colleagues agree, it is a pleasure to work with Rashawn. The smile, always on his face, radiates his enthusiasm and passion for his work, and the pride he has for UNK.
This transplant from Stuart, Florida, has been granted two UNK degrees and has worked at UNK for 17 years. His wife, Jennifer Harvey, is Director of UNK's Thompson Scholars Learning Community. They have 3 daughters, Jessamyn, and twins, Jolissa and Janessa. Rashawn has served as head football coach at Kearney Catholic High School since 2016 and is a former Shrine Bowl Coach.
Here today are, his wife, Jenn Harvey, Aaron Estes, Director of Academic Success, along with Associate Vice Chancellor for Student Affairs George Holman, as we recognize Rashawn for exemplary service and making a meaningful, impactful difference for so many.