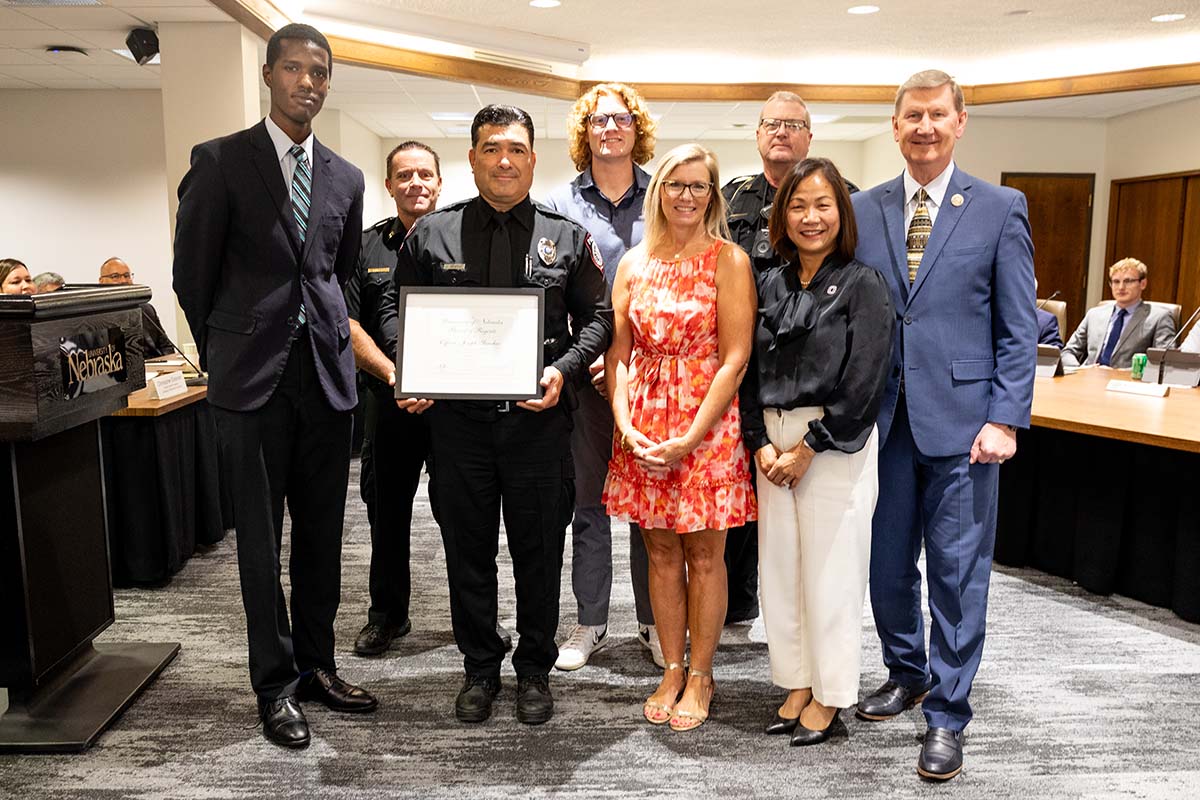 Pictured: Regent Lotoro, Capt. Trevor O'Brien; Officer Joesph Sanchez, recipient; Dylan Sash, son; Julie Sanchez, wife; Sgt. Steve Venteicher; Chancellor Li; President Carter.
The University of Nebraska Board of Regents is proud to present a KUDOS award to Officer Joseph Sanchez, who serves the University of Nebraska at Omaha through the Department of Public Safety.
Officer Sanchez has been recognized by his peers for modeling a positive example for his fellow officers to follow while serving the university and Omaha communities. His nominator said that Officer Sanchez's actions "have set the tone for the UNO Department of Public Safety. All students, faculty, and staff can look to his examples of helping others as a way of life and practice, in their educational and professional pursuits."
In November 2022, Officer Sanchez went above and beyond in saving the life of an individual as he responded to a call regarding a suicidal person on the top of a University of Nebraska Medical Center parking garage.
Upon arrival, Officer Sanchez observed an individual standing on a ledge outside of the guardrail. His nominator said that Officer Sanchez identified himself as a university police officer and patiently engaged the individual who was in extreme need of assistance. Then, with the help of two Omaha Police officers, the person was brought safely back over the guard rail and transported to emergency protective custody.
The nominator said that although Officer Sanchez knew nothing of the individual who needed assistance, he did not hesitate to engage that person, gaining trust, and eventually providing the help needed to obtain the lifesaving assistance at that time of crisis.
Officer Sanchez's wife, Julie Sanchez, and son, ???? are with us today along with Officers ???? and ????. For his commitment to demonstrating his Maverick Spirit and going above and beyond the call of duty, Officer Sanchez has fully earned this recognition.