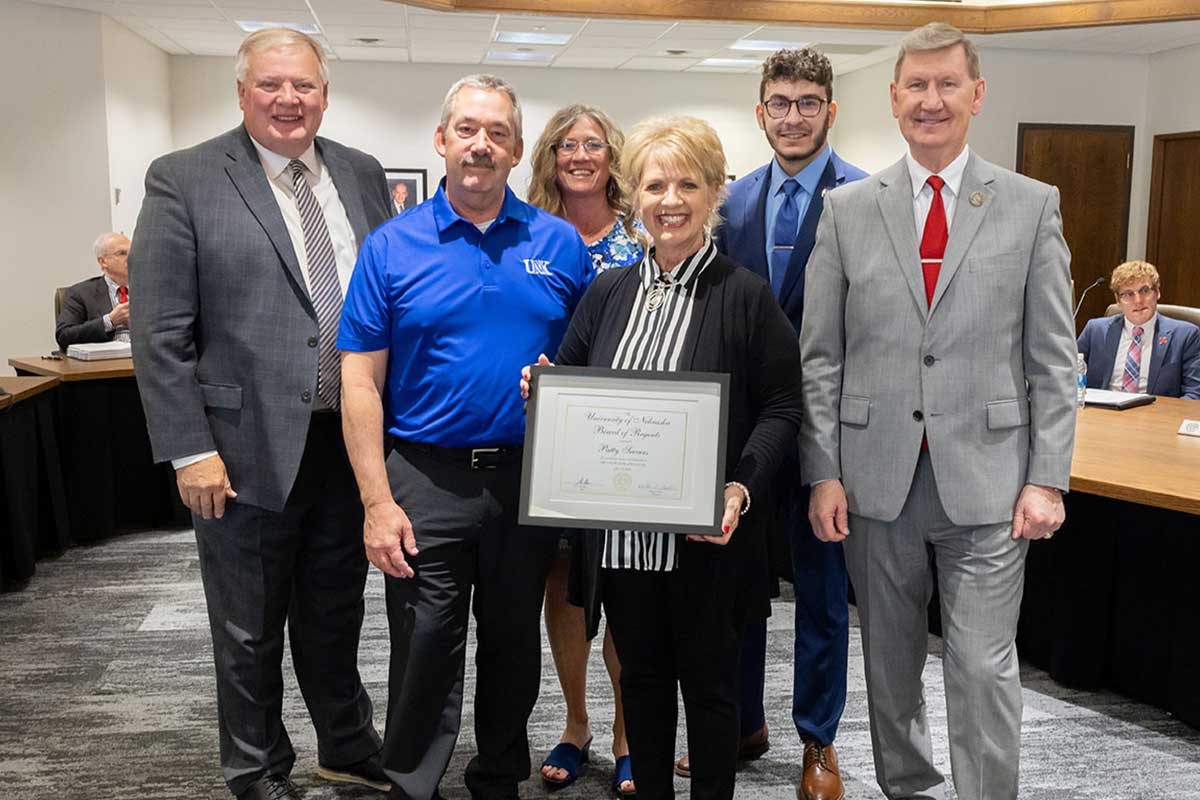 On behalf of the Board of Regents, I am pleased to present a KUDOS Award to Patty Seevers, Office Associate for Undergraduate Admissions at the University of Nebraska at Kearney. From Cozad, NE, she graduated from Cozad High School, and then attended the Lincoln School of Commerce. In 2014, after a 32-year career at Kearney's CHI Good Samaritan Hospital, she joined the staff of UNK.
Patty's title is Office Associate, but it could be "Director of First Impressions." Her workspace is located at the main entrance of the Nebraskan Student Union where her job responsibilities include greeting visitors and assisting guests who have come for campus visits, connecting prospective students with professors in their intended fields of study, interacting with campus colleagues, and answering questions. Lots and lots of questions.
"My job responsibilities," Patty says, "go above and beyond simple daily tasks – and the added responsibilities are what make my job so fun and exciting. The best aspect of my job," she continues, "is interacting with current students, faculty, and staff who come into the Union for meetings, to shop at the Spirit Shop, or to enjoy the fine dining facilities we have at UNK." Always positive and enthusiastic, always energetic, and willing to go the extra mile, and just plain fun to be around, supervisors and colleagues agree that she is perfect for the position she holds.
Patty is a past recipient of the UNK Employee Achievement Award, she served five years as President of the Kearney Catholic High School Foundation, and she and her husband Tony, have been two-time Chairs of the Kearney Catholic Foundation's GOLD Dinner Auction. Most important of all, they are parents to son, Jordan and daughter, Emily, and grandparents to their 13-month-old, Violet. Tony is with Patty today.
Congratulations and most sincere gratitude to Patty Seevers for her exceptional work and her dedication to UNK, UNK students, and to the entire University of Nebraska System.