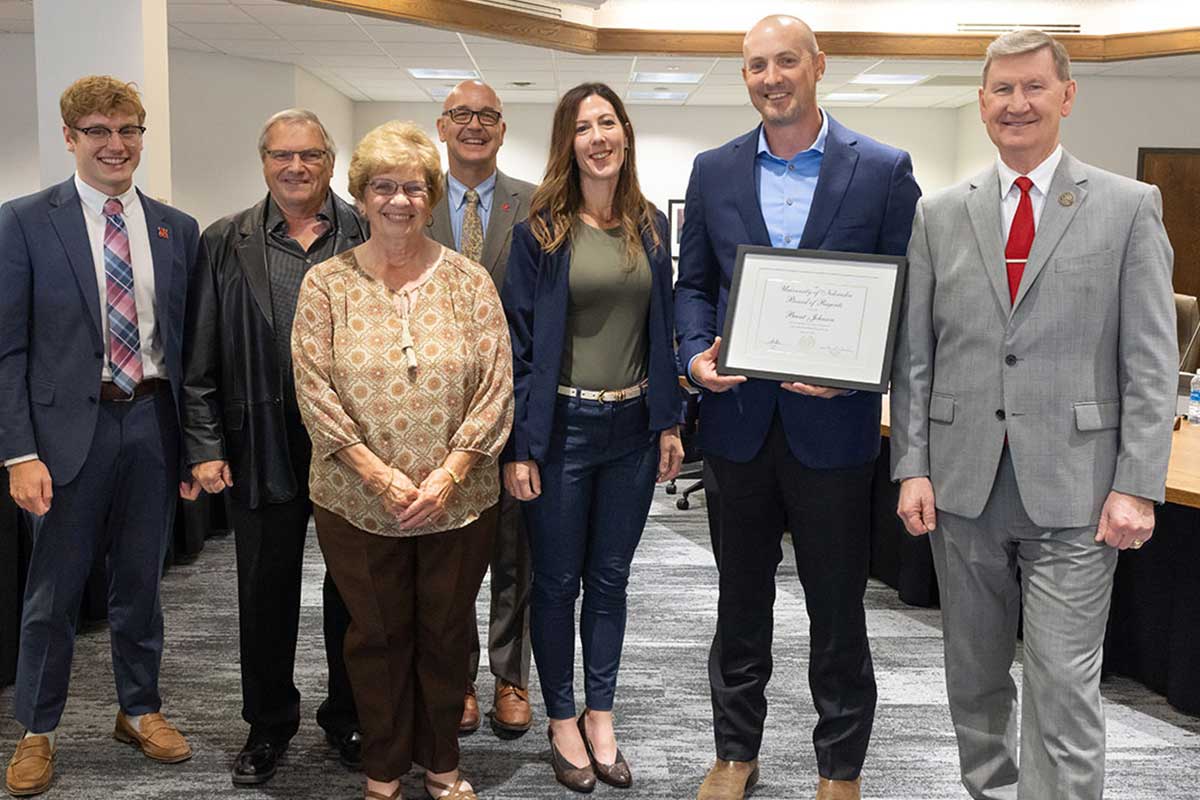 The Board of Regents is pleased to present a KUDOS award to Brent Johnson, Research Manager in Animal Husbandry in the College of Agricultural Sciences and Natural Resources.
Brent has been a valuable and essential member of the Animal Science Department for over 20 years. Starting as a student worker in 2002, Brent has served as the Animal Science Building and Livestock Operations Manager since 2018.
Faculty, staff, and students praise Brent for being a team player, demonstrating excellence in his responsibilities and frequently going above and beyond to elevate the department and the university.
Professor Bryan Reiling notes that, without question, Brent "…has a challenging position as he oversees the care and management of all livestock used for teaching and extension purposes within the Animal Science Building. He is also the point-person to whom everyone goes regarding building maintenance issues and facility set-up and tear-down for special events."
Professor Dustin Yates shared that Brent has found local suppliers for both sheep and cattle for the research program, saving the university substantial money. When Brent sees a need, he wants to help, this included power-lifting full-grown 250-lb animals onto a surgical table 67 times over a period of three weeks. None of this is written in Brent's job description; he does it because he genuinely cares about the people he works with.
Student worker, Sarah Dilley, feels blessed that Brent took a chance on an inexperienced first-year student and he has taught her valuable skills that will set her up for success in future career goals. He cares about providing students with hands-on experiences, from running heavy equipment to gaining experience with livestock. "Brent leads by example, setting a standard to be diligent and efficient…and showing the importance of taking pride in (one's) work."
By inspiring a teamwork attitude and contributing to the high morale among faculty, staff, and students in the department, Brent Johnson continues to have a positive impact on those around him.
Joining Brent today is his wife, Lacy Johnson and his parents, Stan and Peggy Johnson.
Please join me in thanking Brent Johnson for his dedication to the University of Nebraska-Lincoln.