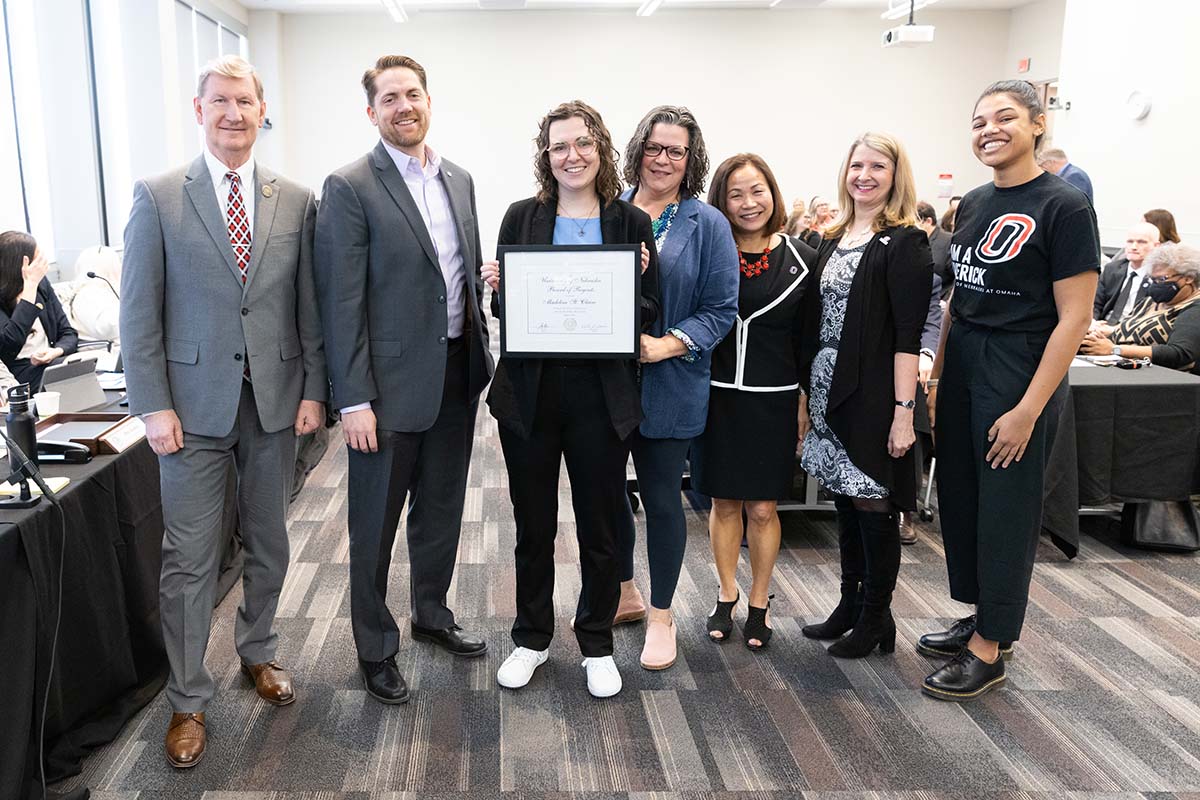 The Board of Regents is proud to present a KUDOS award to Madeline St. Clair, Manager of the Maverick Food Pantry at UNO. Madeline is recognized by her peers for consistently giving her all; and understanding the connection between meeting an individual's basic needs and their ability to be successful in personal and academic pursuits. She makes the pantry a place that feeds students and feeds their success and wellbeing.
One nominator added, "Prior to winter break, Madeline went beyond all expectations when she arranged for food pantry guests to have food during the closedown and partnered with a community organization to provide fresh produce, bread, and desserts for the holiday season. All are foods the pantry hasn't typically been able to provide."
Understanding the power of an engaged community, Madeline specializes in community partnerships that ensure UNO, UNMC, and College of Saint Mary students have the resources they need to excel. She partners with organizations like Whispering Roots, Omaha Farmer's Market, Big Muddy Urban Farm, Food Bank of the Heartland, and more. Now the pantry distributes free diapers through a new partnership with the Nebraska Diaper Bank.
Seeking feedback helps ensure provision of diverse and culturally appropriate products. There is something for everyone. Soon, SNAP application assistance and outreach will expand pantry programming.
Madeline works to be sure all are included and feel welcome. There can be a stigma associated with utilizing food pantries, so she intentionally creates a culture of caring with a variety of options based on comfort levels and needs. She works to combat that stigma through conversations, education, marketing, and social media to help the campus community understand the real and pressing need on campus. She says, "Just because someone is able to attend a four-year university, doesn't mean that they don't face barriers like food insecurity." She coined the Maverick Food Pantry motto, "when you need it, take it. When you have it, give it."
Joining Madeline today is her mother, April St. Clair. Please join me in celebrating Madeline's commitment to creating an outstanding resource for the Maverick community!