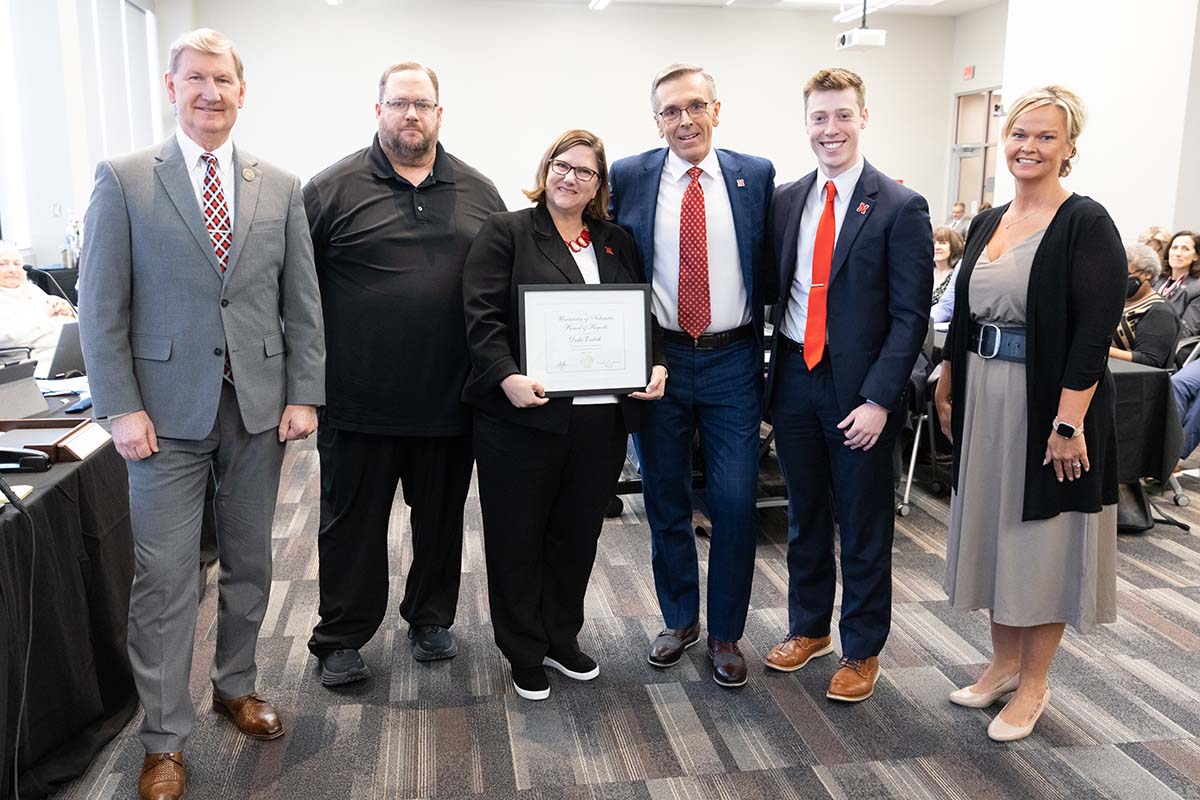 The Board of Regents is pleased to present a KUDOS award to Dodie Eveleth, Business Manager in the Biology, Physics & Astronomy, and Chemistry Business Center for the College of Arts and Sciences at the University of Nebraska-Lincoln.
Dodie has been a valuable member of the university since her hiring in 2006. As the Business Manager of three departments, she is a team player who treats her staff with professionalism and positivity. One of her nominators stated, "Dodie is the glue that keeps the department programs running. She helps us develop game plans for the busiest times of the year and makes sure that everyone has everything they need for success. She is flexible and open, which has helped us push out some very important efficiency projects."
Another writes, "She wears many hats and has many duties, but she balances them all so well and dedicates herself fully to each area and treats everyone with care. She genuinely cares about each of her staff members."
Dodie "…strives to create a welcoming environment, a close-knit community that supports each other and spends meaningful time together to strengthen relationships and to make the office a place you look forward going to each day."
A real leader and a warm, genuine person who makes everyone feel comfortable and trusted, Dodie has created a work environment where "every person and every interaction matters."
Joining Dodie today are her husband, Craig Eveleth, and nominator Alecia Kimbrough, Assistant Dean for Business and Finance and the College of Arts and Sciences.
Please join me in thanking Dodie Eveleth for her dedication to the University of Nebraska-Lincoln.