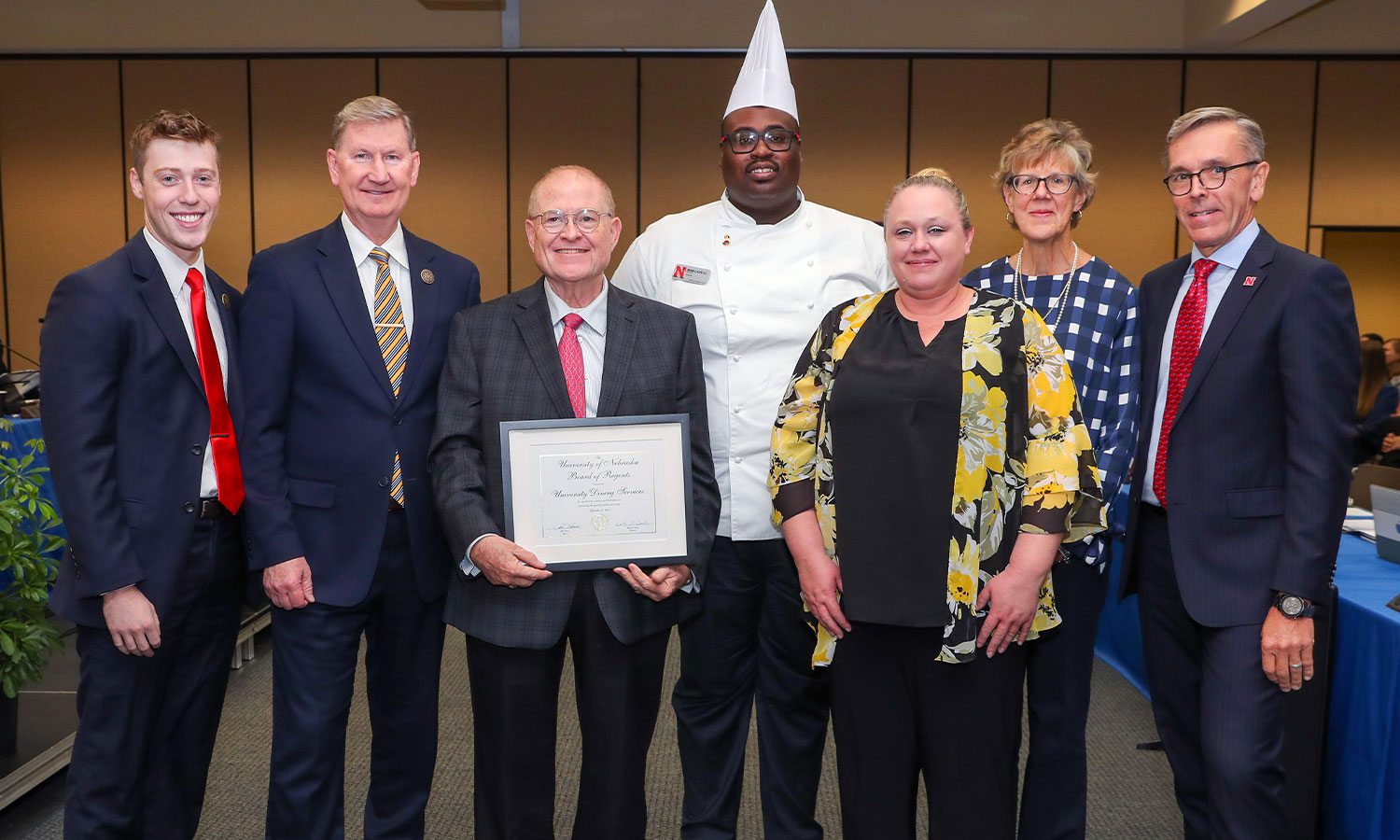 Student Regent Jacob Drake, President Ted Carter, David Annis (Director, University Dining Services), Wahadi Allen (Executive Chef), Rebecca Wood (Assistant Director for Dining Retail), Pam Edwards (Assistant Director for Dining Service), and Chancellor Ronnie Green
The Board of Regents is pleased to present a KUDOS award to University Dining Services, led by David Annis at theUniversity of Nebraska-Lincoln.
The past few years have offered unprecedented challenges for the university, and the often-unsung heroes behind the scenes are our dining staff members. They continued working as essential employees when the university was temporarily closed and made rapid adjustments throughout the COVID response period to accommodate the variety of student and campus needs. Many have had to work extra shifts for extended periods of time, yet they've pulled together and represent the best of what we know Nebraska to be – a hardworking, friendly, and caring community.
Pivoting to meet the changing requirements of the health department and personal interactions, Dining Services shifted from a focus on eat-in options to increase interaction and belonging to developing easy-to-heat homemade meals and delivery services for isolation housing. At its peak they prepared and delivered nearly 7,500 meals for over 530 students.
At the same time Dining Services launched a mobile ordering app. Since its launch in Fall 2020, nearly 17,000 users have downloaded the app to place meal orders and this past spring app orders made up 34% of total dining sales.
Dining Service members work to make each meal a unique experience. For example:
A recently installed smokehouse at Harper Dining Center serves delicious barbecue.
Moxie's is a new entirely gluten-free café, where the space has been renovated with special air handling equipment and staff have been trained regarding specific allergen issues.
Willa Cather Dining Center is known for its World's Fare and Abel Dining Center offers a Veggies+ line that features vegan and vegetarian options.
Dining Services has expanded University Catering operations and has become the preferred vendor within the Nebraska Unions, featuring Nebraska Local items. And a new partnership with the Southeast Community College culinary program will offer apprenticeship positions, providing a sustainable staffing pipeline.
University Dining Services is revolutionizing food options and operations across UNL, and they've continued to do so despite hiring challenges in the industry and current economic market. As team members push the boundaries of time and service, they continually increase students' expectations with each positive interaction.
Joining Dave today is:
Pam Edwards, Assistant Director for Dining Service;
Rebecca Wood, Assistant Director for Dining Retail; and
Wahadi Allen, Executive Chef for Dining and Catering Services
Please join me in thanking University Dining Services for their dedication to the University of Nebraska-Lincoln