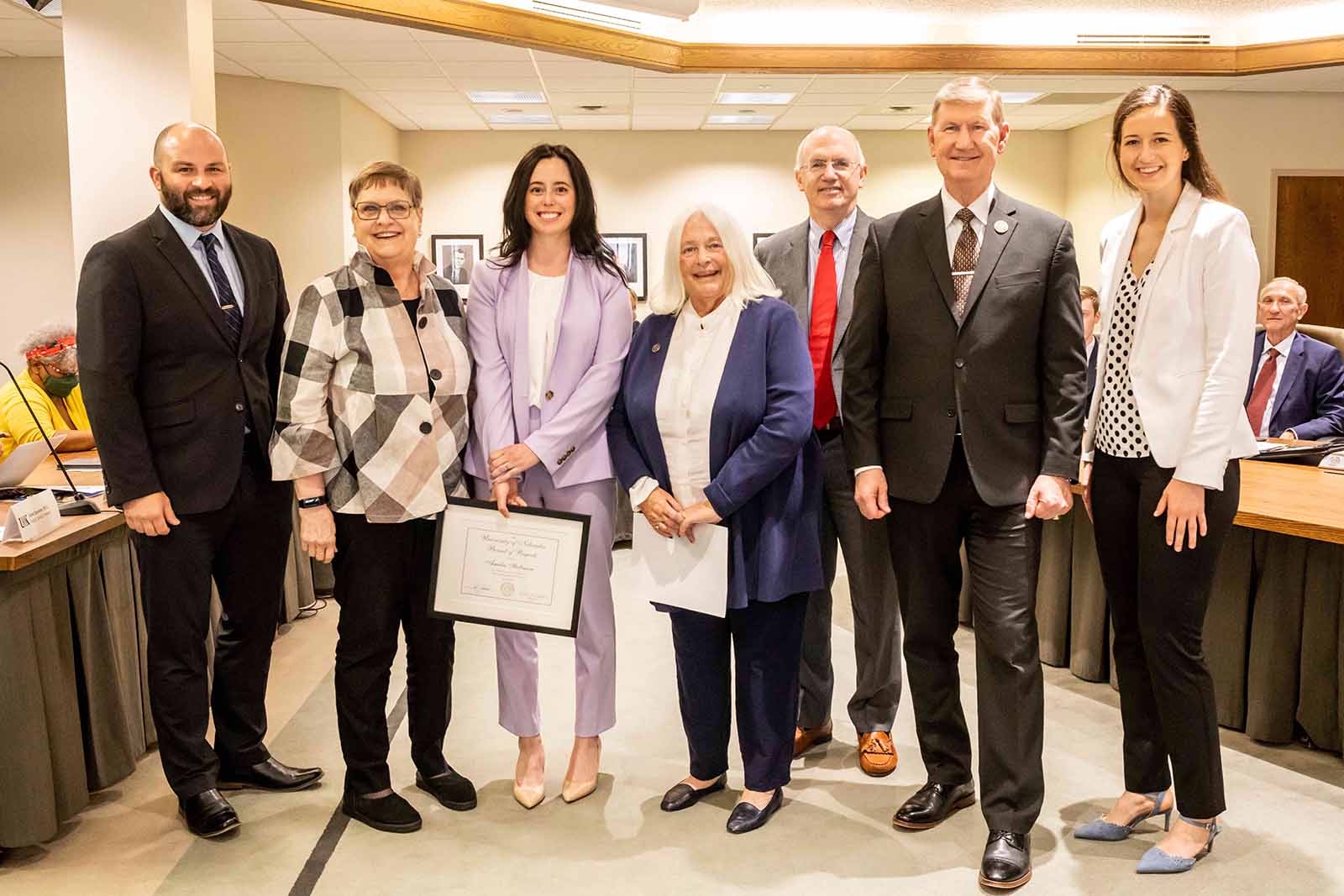 On behalf of the Board of Regents, I am pleased to present a KUDOS Award to Amelia Stoltman, an administrator in the Office of Transformational Practice and Partnership in the UNMC College of Nursing.
With Amelia's leadership, UNMC's Morehead Center for Nursing Practice and Faculty Practice was able to weather the COVID-19 pandemic and provide additional staffing resources to Nebraska communities, while minimizing College of Nursing revenue practice losses.
When practice partners first requested to stop faculty practice due to the uncertainty of COVID-19, Amelia saw opportunities to preserve the practice partnerships. This was critically important because a portion of many faculty salaries are covered by faculty practice contracts.
Amelia provided exemplary customer service to these partners and honored their requests for practice changes due to the pandemic. She surveyed all nursing faculty for their interest in emerging faculty practice opportunities including COVID-19 swab stations and telehealth. She also advertised to potential practice partners that faculty practice might be a solution to their short-term or long-term staffing needs.
Said one nominator: "Through Ms. Stoltman's strategic thinking, the College of Nursing's faculty practice was able to continue to provide care across Nebraska and have a real impact on many communities."
Amelia's communication skills, accountability and mentorship of new faculty also have earned praise. A nominator said, "Our highly successful retention of practicing faculty and increased revenue is a direct result of her support of faculty and her professional and effective communication with our practice partners."
Today, Amelia is accompanied by her husband, Dan Carpenter and her supervisor, Kate Fiandt.
Please join me in thanking Amelia for her innovative response to preserving faculty practice partnerships amid the COVID-19 pandemic and for her dedication and mentoring of junior practicing faculty.