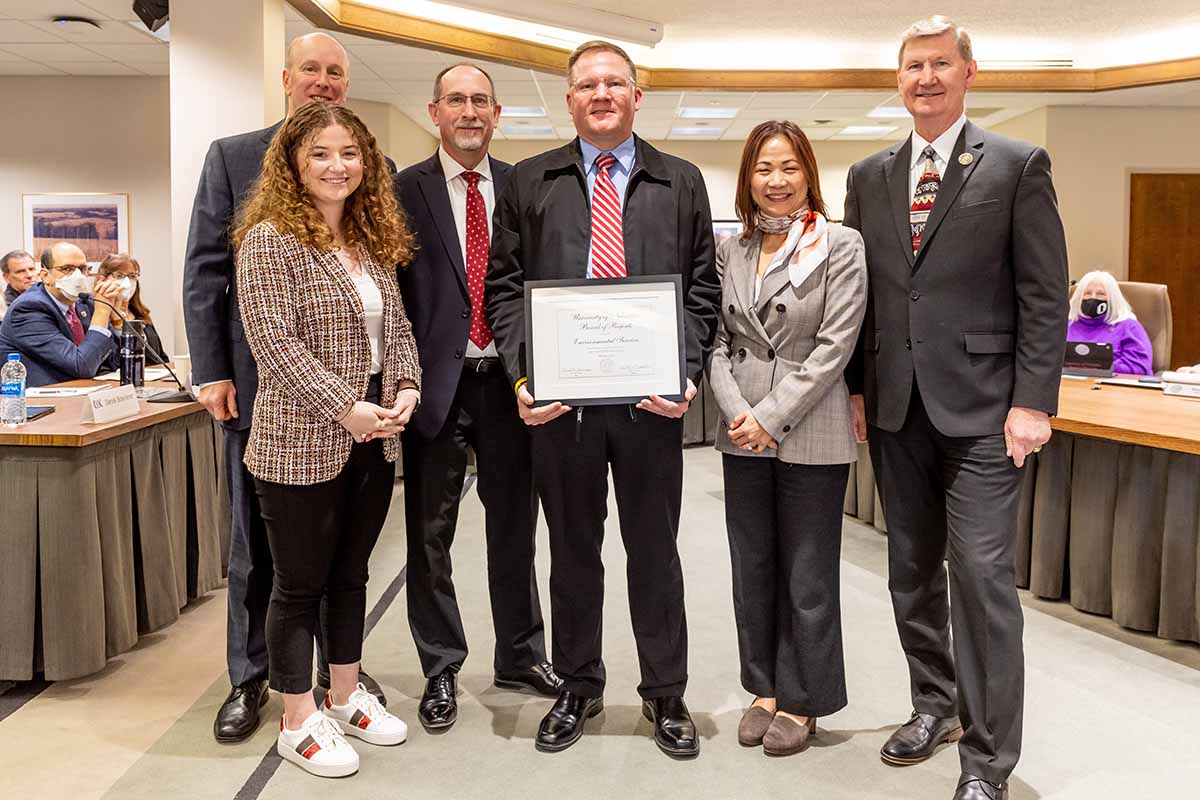 The Board of Regents is proud to present a KUDOS Award to Environmental Services, a part of the UNO Facilities Planning and Management team.
Larry Morgan, executive director of campus facilities and Kraig McDonald, manager of custodial service, are in attendance to accept this award.
Environmental Services, which operates and maintains UNO's campus, has gone above and beyond its duties to keep UNO facilities sanitized and safe throughout the pandemic. To keep the campus as safe as possible, the team has routinely cleaned, sanitized, and monitored each building as students, faculty, and staff were able to return to in-person learning, teaching, and working. In addition, they quickly adapted to frequent changes in safety measures and priorities and used their knowledge of supplies, protocols, and products to prevent further risk of exposure to COVID-19.
The team collaboratively cleaned the dorms at the height of the pandemic and was proactive in assisting anyone who needed help. Through their continued efforts, students, staff, and faculty have been able to return to campus as safe as possible and been able to continue exceptional in-person education and research.
"They continue to make the changes necessary to ensure a clean and safe environment for all those who have returned to campus," their nominator said. "We would like to recognize them for their hard work and to let them know that we are grateful for their MAV spirit in pushing on through very difficult times."
In addition, the unit's nominator said the Environmental Services team is always "welcoming and friendly" and willing to help when issues arise despite the extra workload they are also dealing with because of the pandemic. "If ever there was an example showing resilience and positive collective endeavors, the Environmental Services team has done this."
Please join me in congratulating Larry, Kraig, and the Environmental Services team!