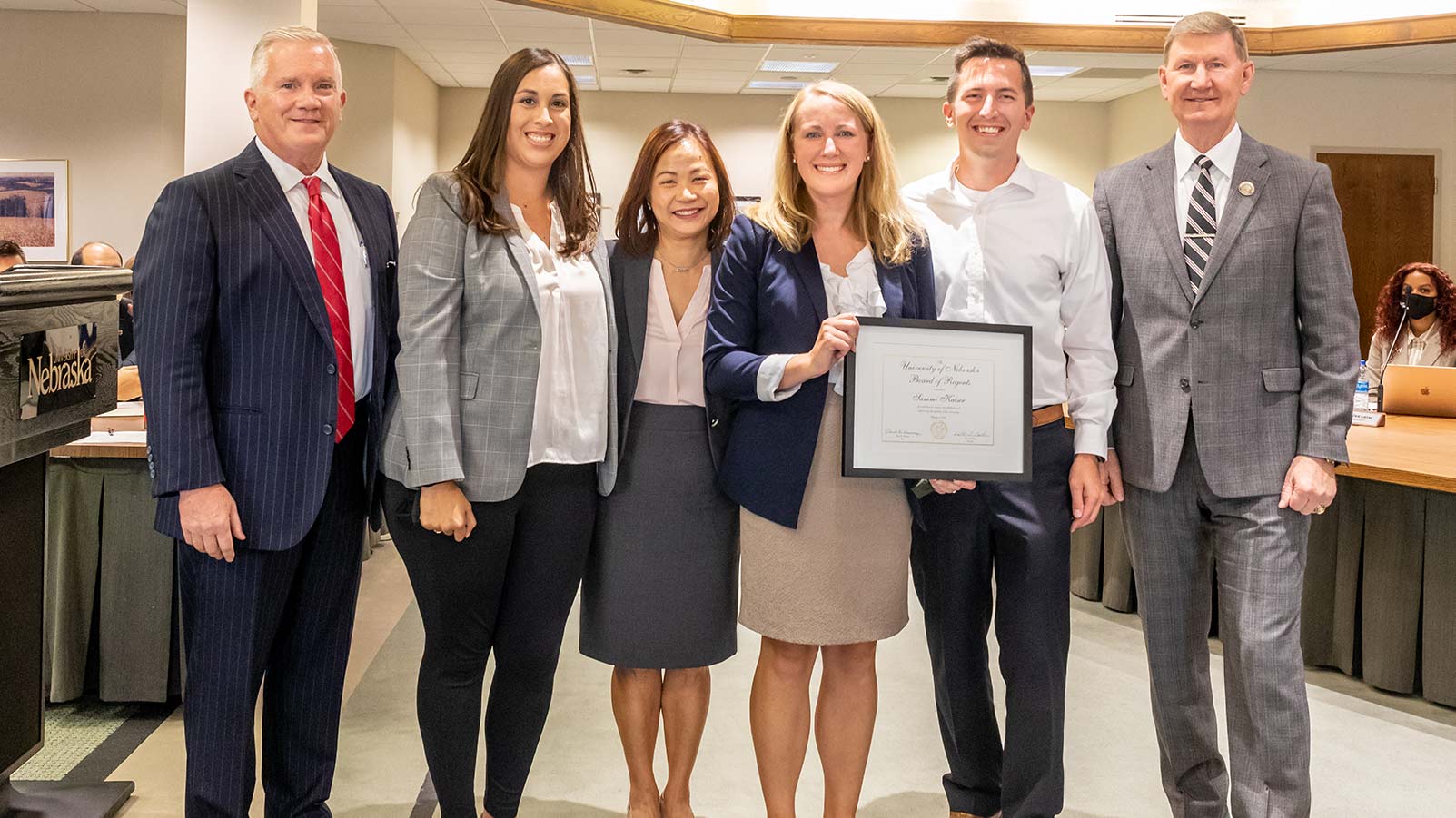 The Board of Regents is pleased to present a KUDOS Award to Sammi Kaiser, Director of the Academic and Career Development Center, and Senior Director of Academic Advising for the University of Nebraska at Omaha.
Through her tireless work and efforts towards inclusivity, Kaiser has gone above and beyond the responsibilities of her role, encouraged better communication, and taken on additional responsibilities with enthusiasm.
In her nomination, Kaiser was described as someone who has worked to engage everyone she works with when creating UNO's advising ladder, which allows professional advisors to continue their advising career across different colleges. She led and organized a small committee focused on identifying the best practices for a promotion ladder and facilitated its. With her continued dedication, she has made UNO a leader among higher education institutions in this space.
During the pandemic, Kaiser also worked to bring continuity to student advising across UNO, a huge responsibility during normal conditions. With her ability to bring trust throughout the advising community, she has been able to create a more unified experience across campus.
Kaiser created the Advising Lead Council, which connects advising leaders from different departments together to share information and solve problems and bridges initiatives from Academic Affairs and Student Success with student-facing advisors.
Kaiser embodies inclusiveness. She has worked tirelessly to include everyone when it comes to decision-making. Kaiser constantly supports others and works to foster spaces where leaders can feel safe in having difficult conversations to solve a variety of issues. Her nominator states "Sammi is a true Maverick. She is strong, resilient, and leads with an optimism. She envisions a better future for everyone she encounters."
Joining Sammi today is her husband, Steve Kaiser, and her supervisor, Kristine Cammarano.