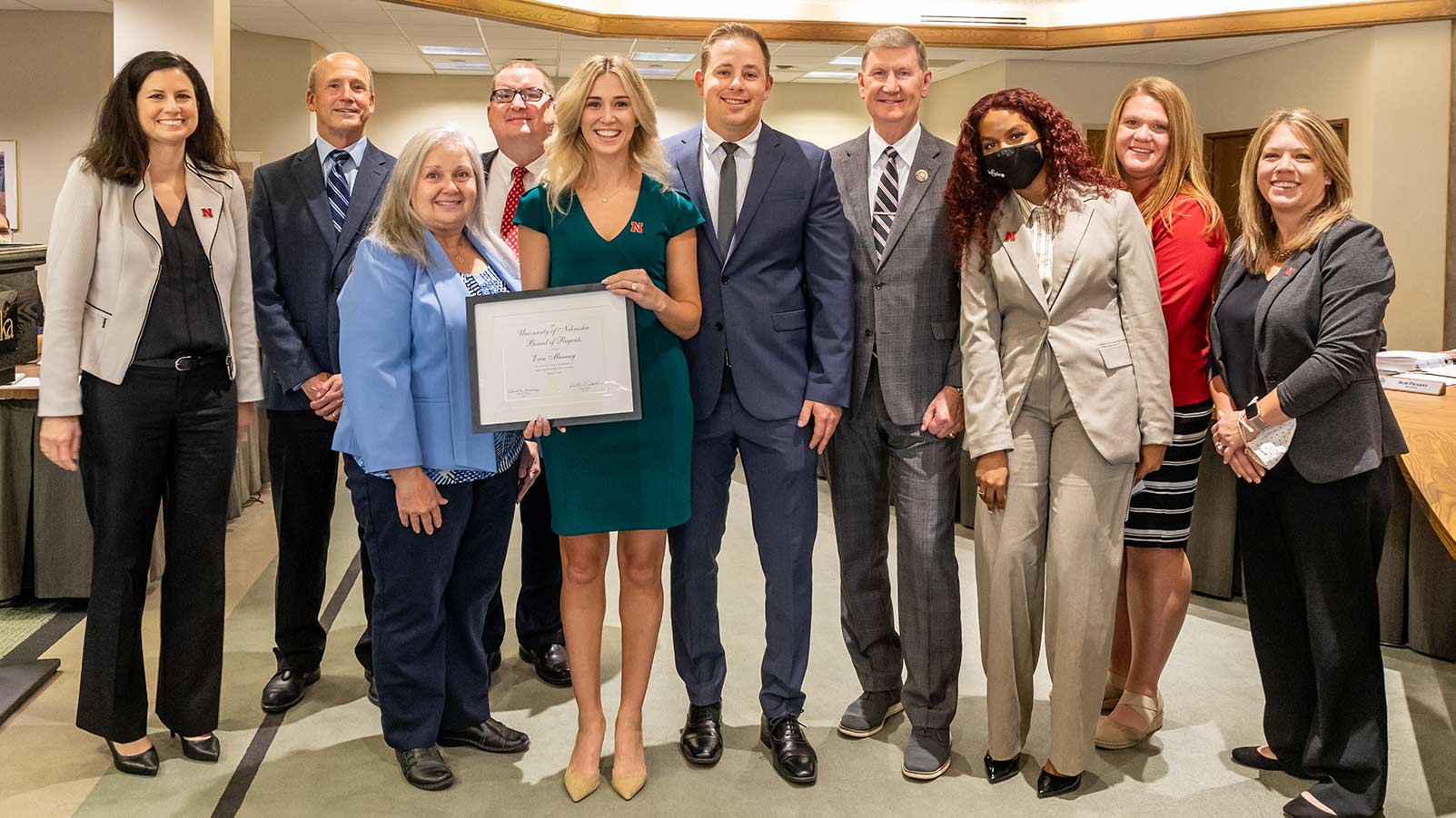 The Board of Regents is pleased to present a KUDOS award to Erin Murray, Research Business Services Specialist in the Office of Research and Economic Development and Program Coordinator for the Nebraska Center for Energy Sciences Research at the University of Nebraska-Lincoln.
Over the past 18 months, Erin's job responsibilities have expanded to include staffing and overseeing the nasopharyngeal and saliva COVID-19 testing sites at UNL. An operation that started in one small tent has since turned into a network of 14 testing sites spread across the three Lincoln campuses with the ability to provide valuable testing resources to our community of 35,000 faculty, staff and students.
Erin has hired and trained more than 200 students and temporary workers to staff the COVID-19 testing sites. She has mastered the art of scheduling around student workers' class schedules without a delay in service.
She leads by example, modeling the important qualities of professionalism and customer service, and instilling these core values in the dedicated workforce behind the COVID-19 testing operation. She embodies the Nebraska ideal of making sure that "every person and every interaction matters."
Erin has worked with the remarkable crews in University Housing and Facilities Management and Planning to ensure the infrastructure at the testing sites was safe and comfortable for staff and pivoted quickly to move testing sites indoors when the Nebraska weather turned bitter cold.
Over the past 18 months, Erin has worked nights, weekends, and holidays to ensure everyone at our university has access to COVID testing and vaccination clinics. She has faced this challenge with a can-do attitude, a smile on her face, and complete dedication to serving the faculty, staff, and students of UNL.
Joining Erin today are Tyler Coufal and her parents, Terri and Con Murray.
Please join me in thanking Erin for her dedication to the Office of Research & Economic Development and the University of Nebraska-Lincoln.