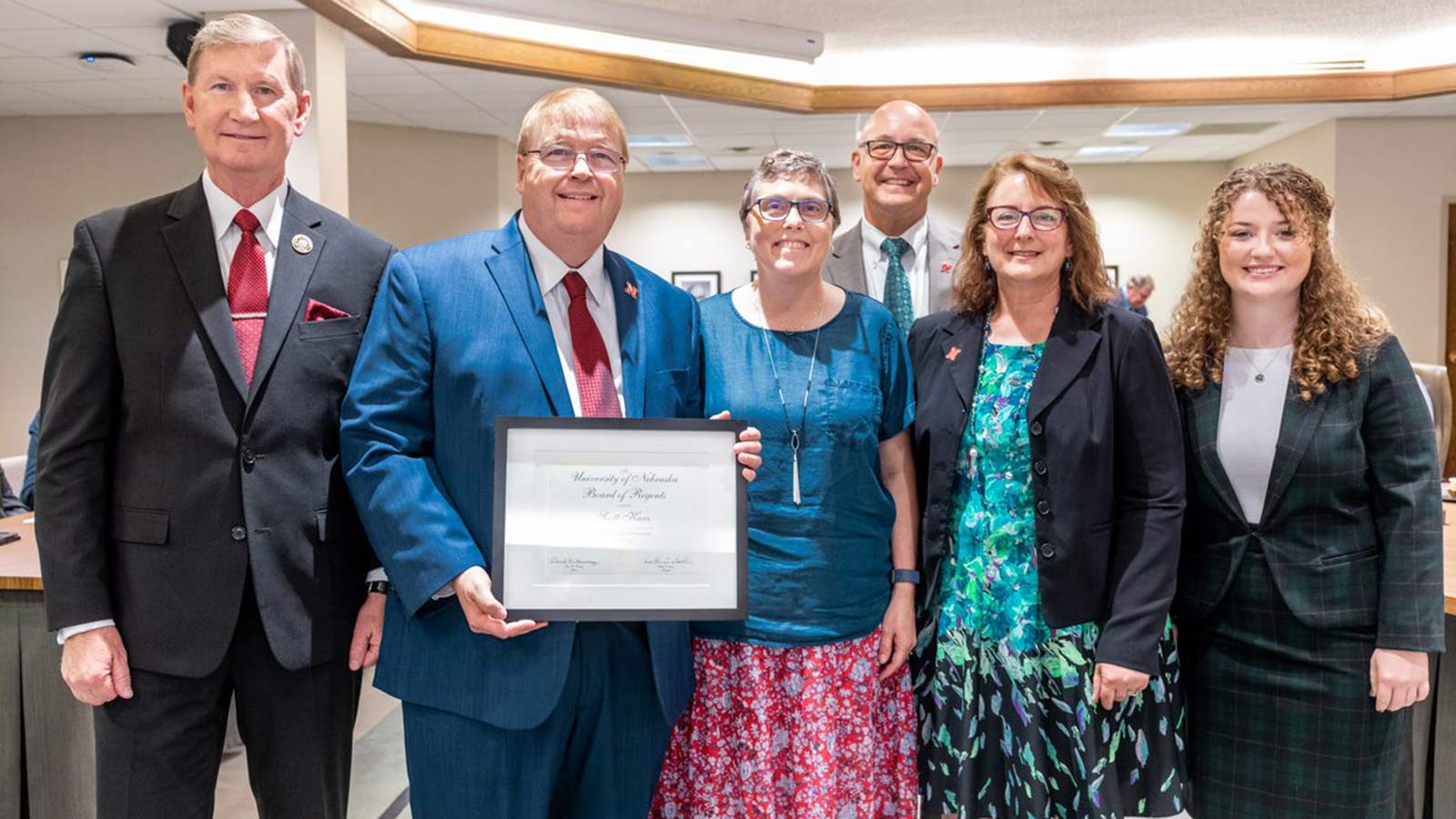 The Board of Regents is pleased to present a KUDOS award to Scott Kurz, Physiology Laboratory Manager in the Department of Animal Science at the University of Nebraska-Lincoln.
Scott has been the Physiology Laboratory Manager since 2012, where he supervises and trains students from four (4) physiology faculty labs and others that need to utilize radioactivity or equipment within the physiology laboratory. He also maintains the viral free mouse and rat space in the Animal Science Complex and ensures that the day-to-day care for these animals are conducted, which includes supervising many undergraduate student workers. In addition to managing all of these resources efficiently and effectively, Scott still has time to train undergraduate students, fix or refurbish equipment, pick up necessary samples or dry ice on his way home or to work, and mentor graduate students as they work on their research projects.
According to Scott's nominator, his value as a member of the Physiology group was particularly evident during the COVID-19 university shutdown. As the only physiology lab manager classified as essential, it fell upon Scott to care for mouse colonies, essential equipment, electrical emergencies, and any required purchases. "Scott would text us when he entered the building and when he left in case any of the physiology faculty had things they needed him to take care of that day." Often working 12-hour days, Scott did his job as well as the work of several others during the shutdown.
Scott balances his responsibilities while investing in the undergraduate and graduate students within the department. He is a hardworking employee that gives unselfishly of his time and talents above and beyond what is required.
Joining Scott today are his wife, Pam Kurz; and his supervisor, Andrea Cupp, the Omtvedt Professor of Animal Science.
Please join me in thanking Scott for his dedication to the Department of Animal Science and the University of Nebraska-Lincoln.