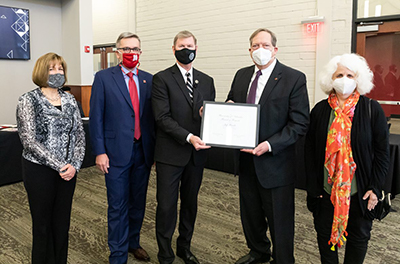 The Board of Regents is pleased to present a KUDOS award to J. Jeff Burdic, Assistant Director, Business Advising and Student Engagement in the College of Business at the University of Nebraska-Lincoln.

Jeff has been an impactful member of the College of Business community for over 18 years. He is the problem solver; the student advocate; the person to speak up when a process or procedure will make things more complicated for students. Jeff not only exemplifies each of the College of Business Guiding Principles, "Make It Matter," he personifies the university principle of "Every Person, Every Interaction Matters."

Each year, the UNL Parents Association asks parents to nominate a faculty or staff employee who have made a significant difference in their student's life. Jeff has been recognized numerous years by students' parents. Student feedback is also overwhelmingly positive as Jeff takes time to hear students' questions and their underlying needs. The students themselves say it best:

• He went above and beyond to help me figure out what classes to take. He was very patient and helpful throughout the whole process.

• Jeff was very understanding and very helpful. He made me feel like he really wanted to help me and actually cared about me as a person and student.

• Jeff Burdic is probably my favorite person in the College of Business. Since I was a freshman, he has helped me so much and given me such amazing advice. Now that we're planning my senior year it is such a relief that I still have Jeff to guide and help me!

Jeff utilizes ideation and restorative strengths quite often and has been instrumental in efforts to improve policies and procedures in the office and across the college. Most recently, it was as simple as noticing the opportunity for additional improvements to the substitution and waiver form rather than just making one tweak.

Advisors are quick to seek Jeff's advice and insight, not only because he is a fountain of knowledge, but also because of his kind, personable, and relatable approach in his responses.

Joining Jeff today is his wife, Stephanie Burdic.

Please join me in thanking Jeff for his dedication to the College of Business and the University of Nebraska-Lincoln.