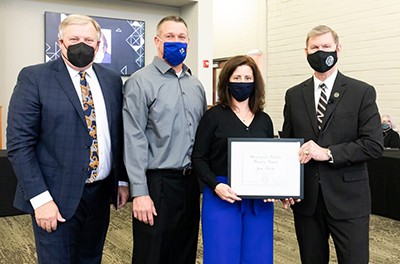 On behalf of the Board of Regents, I am pleased to present a KUDOS Award to Jami Koester, Office Associate for the Departments of Cyber Systems and Industrial Technology at the University of Nebraska at Kearney.

Jami joined UNK's staff in October 2010 as an Office Associate for Industrial Technology and in June 2020 transitioned to also providing support for Cyber Systems.

Aside from being a wife and mother, balancing work and home, she says that "building relationships with co-workers and students to create a strong team and enjoyable working environment" ranks first in the accomplishments of which she is most proud. Also high on that list is the assistance she provided in organizing the move of two departments into UNK's newly constructed Discovery Hall – a monumental task in the best of times but made much more difficult by challenges that came with COVID 19.

Jami's other responsibilities include maintaining a professional office atmosphere; assisting students, visitors and faculty, and providing support to Department Chairs; monitoring budgets, travel and inventory; assisting with searches, program accreditation, and annual scholarship awards; and the myriad of details that come under the heading: "providing other support as needed." She has also served on Staff Senate and the University-wide Benefits Committee and is a recipient of UNK's Employee Achievement Award and Teamwork Excellence Award.

Colleagues describe Jami as an independent thinker, as having a good grasp of her position, being able to work with little assistance, and a true team player. "She is both efficient and effective, and she is a pleasure to work with," says Tim Jares, Dean of the College of Business and Technology. "Her people skills match her analytical and problem-solving skills. She makes UNK and CBT better and that's what we should all strive for."

With Jami today is her husband, Todd Koester.
Congratulations to Jami Koester for her exceptional contributions. What she does each day makes a difference - not only to students of Cyber Systems and Industrial Technology, but to the entire University.