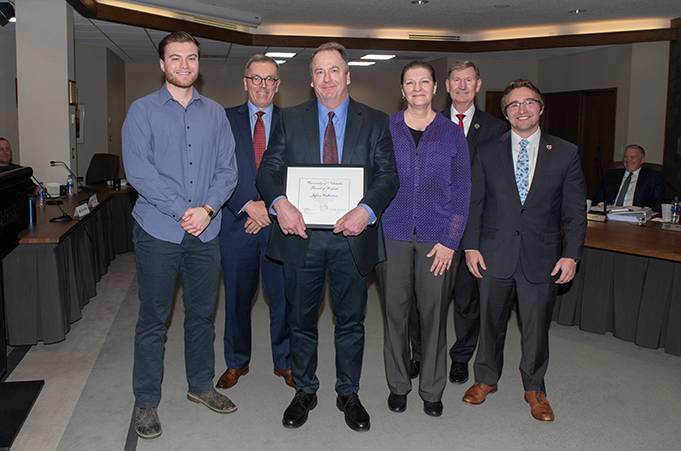 The Board of Regents is pleased to present a KUDOS award to Jeffrey Culbertson, Assistant Director of Landscape Operations at the University of Nebraska-Lincoln.

Jeff has worked at UNL since 1999 and routinely manages all aspects of the Landscape Services and Waste Management departments. He is primarily responsible for conceptualizing, staffing, developing, and directing all activities and processes.

According to his nominator, Jeff is a hard-working and responsible steward of the campus landscape. He fosters collaborative relationships with operational and academic departments and finds ways of integrating learning and collaboration opportunities into the landscape management operations. He prepares and manages annual budgets and manages all department staff in support of the University's mission.

In addition to regular department management, Jeff manages site preparation for all campus special events and is responsible for snow and ice removal for City and East campuses, which was particularly challenging during the Winter of 2018/19 with over 50 inches of snowfall. Jeff and the Landscape Services staff worked tirelessly to remove the snow and create a clear and safe path for all faculty, staff, and students.

Jeff is exceptionally professional, has great vision, and always positions his staff and material resources to most effectively support the campus community. Jeff is always prepared, always available, and approaches his responsibility to the University with excellence. His influence reaches well beyond the expectations and formal description that is his job.

Joining Jeff today are; his wife, Lisa, and their son, Lucas. Their other son Trevor, was not able to attend.

Please join me in thanking Jeff for his dedication to the University of Nebraska-Lincoln.