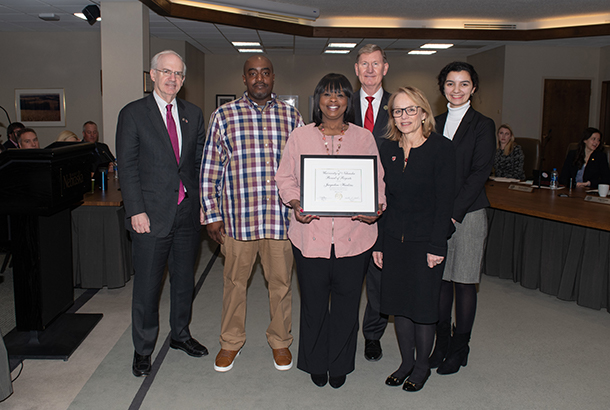 On behalf of the Board of Regents, I am pleased to present a KUDOS Award to Jacqueline Hankins of the Munroe-Meyer Institute at UNMC.

As the administrative associate for the community engagement director, Jackie has helped MMI increase its profile and impact in the Omaha community and throughout Nebraska.

She helped institute the annual, collaborative Light It Up Blue for Autism Awareness event on the Bob Kerrey Pedestrian Bridge. She also is integral to the presentation of MMI's annual Trunk or Treat Halloween event, and this year helped institute a program in which institute clients could write letters to Santa and get personalized letters mailed back to them.

According to her nominator, Jackie is an integral part of a relatively new department and meets each day "thinking outside the box" to make the greatest impact possible on institute clients, as well as MMI and UNMC.

Jackie also serves as a liaison to MMI's supporting boards, all of which play a critical role in supporting the institute's mission to transform the lives of all individuals with disabilities and complex health care needs, their families and the community.

Always a team player, "Jackie has shown repeatedly that she does not hesitate to jump in and tackle situations that others avoid," her nominator said. "Her pursuit of excellence is personally driven, but she also respects and emulates that commitment knowing that she is often the door to MMI and/or UNMC."

Today, Jackie is accompanied by her husband, Ron Berry and her supervisor, Melonie Welsh.

Please join me in thanking Jackie for her dedicated service and unwavering commitment to UNMC and the Munroe-Meyer Institute.