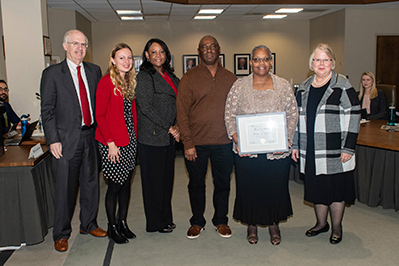 On behalf of the Board of Regents, I am pleased to present a KUDOS Award to Evelyn Grixby, employee relations program coordinator in Human Resources/Employee Relations at UNMC.

According to colleagues, Evelyn's dedication and commitment to going above and beyond for her customers is surpassed only by the level of excellence she delivers.

As part of her role, Evelyn coordinates the Step-Up Omaha program at UNMC. The employment program recruits, trains and places prepared young adults in mutually beneficial and diverse work experience opportunities. At UNMC, recruits have worked in such areas of campus as the chancellor's office, human resources, family medicine, anesthesiology and the Eppley Institute.

"Evelyn has taken the program to new heights," her nominator said. "She has gained national attention for the work she has done with the Step-Up Program and her commitment and the work she delivers is directly responsible for its success at UNMC."

Evelyn, no doubt, would proudly note that several program participants have been hired as UNMC employees.

As employee relations program coordinator, Evelyn also has made innovative changes that have led to greater efficiencies and collaborations with almost all of her major duties, including worker's compensation, new employee orientation, and the reward and recognition program.

Today, Evelyn is accompanied by her husband, Ron; supervisor, Linda Cunningham; and Assistant Vice Chancellor for Human Resources, Aileen Warren.

Please join me in thanking Evelyn for nearly 25 years of compassionate leadership, dedicated service and countless contributions to the University of Nebraska Medical Center.