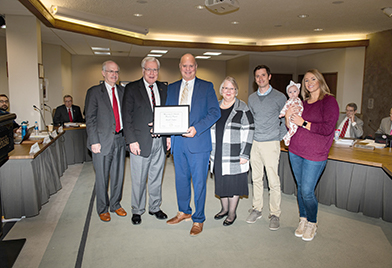 The Board of Regents is pleased to present a KUDOS award to Lowell Neuhaus, manager of Landscape Services at the University of Nebraska at Omaha's Office of Facilities Management and Planning.

UNO is known for its bright, beautiful campus landscape, and it's Lowell's team that makes that happen year after year. Starting at the Grounds Department in 1977, his exceptional commitment, leadership style, and attention to detail, led him to a management position.

Each year, Lowell's crews maintain approximately 20,000 annual plants and flowers, which contribute to a wide array of color on campus. He leads a staff of dedicated professionals, who ensure UNO's green spaces and hard surfaces are appealing and usable, no matter the season.

From fertilizing, aerating and cutting 350 acres of green space between UNO's Dodge and Scott campuses in the Spring, to clearing 18 miles of sidewalks from snow and ice in the dead of Winter; Lowell and his team never fall short of expectations.

In the Winter, Lowell is the first to arrive on snow days and the last one to leave when advising senior leadership on severe weather. When others are asked to stay home during a winter storm, Lowell is on-campus, directing snow removal efforts of all sidewalks and parking lots.

Lowell's responsibilities stretch across campus in different capacities, such as management of recycling, trash removal, pest control, street sweeping, cleaning parking structures, and post-storm clean-up, just to name a few. Lowell visits other departments on campus regularly and addresses all concerns in a friendly, transparent, and professional manner.

Please join me in thanking Lowell for his commitment to UNO.