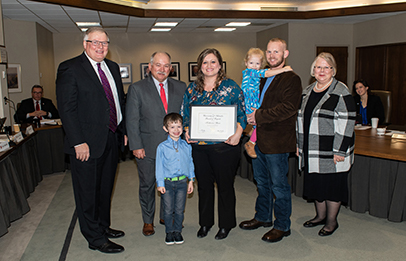 The Board of Regents is pleased to present a KUDOS Award to Katherine Shinn, Office Supervisor in the Department of Music, Theatre, And Dance. A member of UNK's staff since June 2016, Katherine is also a UNK graduate and graduate student. She received a Bachelor of Arts in Music Education in 2008 and is working toward a Master's in Business Administration with an expected graduation date of May 2020. From 2008-2011 she taught 5th Grade Band for Grand Island Public Schools.

A talented musician in her own right, it is no mystery why Katherine enjoys her work. She is a flutist, a participant in and current leader of the UNK Flute Choir, and a member of the Platte River Singers. "Music has been a part of who I am and will always play a significant role in my life," she says. Her attitude and work ethic are reasons why she also excels at what she does. "The thing I have learned most from working here," she says, "has been: There is always room to improve. That's what my staff and I do. We always look for ways we can make things better."

Katherine's responsibilities include supervising office staff and student workers; analyzing operational practices to improve efficiency; developing training and procedural handbooks; overseeing assets such as instruments and the music library; coordinating advertising and promotion of music events; calendar maintenance; managing mailings and mailing lists; overseeing travel arrangements for faculty, staff, students and guest artists; managing accounts; maintaining course evaluation processes; assisting with building supervision; and general assistance as needed for campus and the community. In short, she is the "go-to-first" person for music-related questions. "Katherine never stops going above and beyond for the benefit of students, staff, and faculty," says Department Chair Noah Rogoff . "Her attention to both the details and the big picture serves to make things run smoothly and everyone feel taken care of."

Joining her today are husband Noah, son Landon, daughter Evelyn and her mother, Lori Sizer.

It is our pleasure to recognize Katherine Shinn for outstanding contributions to the University and the students and public we serve.