Jeffrey P. Gold, M.D., named priority candidate for UNO chancellor
November 5, 2018
University of Nebraska President Hank Bounds announced today that following an 18-month period of growth and momentum for the University of Nebraska at Omaha under the interim leadership of Jeffrey P. Gold, M.D., he has named Dr. Gold as the priority candidate for the position of UNO chancellor. If approved by the Board of Regents, Dr. Gold would serve as chancellor until June 30, 2022, at which time NU would initiate a national search for a successor.
Dr. Gold, chancellor of the University of Nebraska Medical Center since 2014, has led UNO on an interim basis since 2017 following an initial national search for a new chancellor. In that time, Bounds said, UNO has been on a significant upward trajectory – made more remarkable by fiscal challenges facing the university system that have required all campuses to make difficult reductions while preserving their missions of access and excellence.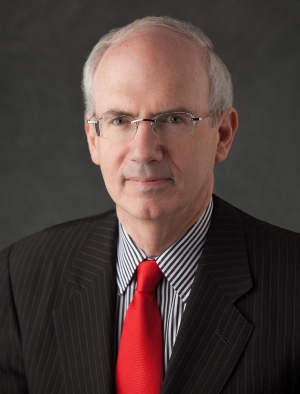 The faculty, staff and students of UNO, together with a talented leadership team and partners across the state, have not only preserved the campus' mission, but enhanced it, Bounds said. UNO's individual and collaborative successes with UNMC span enrollment and student outcomes, academic program development, research, technology transfer, private philanthropy, facilities growth and operational efficiency and effectiveness.
Continued leadership by Dr. Gold in the immediate future provides the best opportunity for those successes to grow, Bounds said.
"Leadership matters, and Jeff Gold is the right person, at the right time, to lead UNO," Bounds said. "Leading two campuses, each with a unique role and mission, is no easy task, and I'm impressed by what Jeff and his colleagues have achieved over the past year and a half. UNO and UNMC will remain separate universities and we intend that each will have its own chancellor in the future. Given where our university is right now, it's important to provide clarity and leadership stability for the next few years as we work to grow our impact.
"The work that UNO does to expand opportunity for young people, educate the workforce and engage with our community has never been more important. I look forward to hearing the input of the UNO community and all Nebraskans on this critical leadership decision."
Dr. Gold said: "Leading UNO has been a high point of my career, and I am honored to have the opportunity to continue to serve on behalf of the talented students, faculty and staff I've come to know better over the past 18 months. I am in awe of their work and impact. I believe we have an opportunity to continue to join with our neighbors at UNMC and across the university system to transform even more lives, and I'm excited to have that conversation with Nebraskans."
UNO's achievements under Dr. Gold include:
An incoming first-year class this year that is the largest and most diverse in history. UNO has continued its success in expanding access; about 40 percent of undergraduates are the first in their families to attend college.
UNO is again ranked among the nation's top 10 universities for military and veteran students, reflecting the campus' commitment to access and success for 1,700 military learners.
A record-high $22.4 million in external funding in 2017-18, a 29 percent increase from the previous year. Notable awards supported UNO's work in biomechanics, business development, international partnerships and the arts.
A newly strengthened partnership with UNeMed, the technology transfer arm for both UNO and UNMC, which yielded greater success in bringing faculty innovations to the market. In only six months, UNO faculty, staff and students submitted 27 new inventions, and promising work is underway in prosthetics, concussion research and COPD, among other areas.
New academic programs in biomechanics, where UNO is a national leader, and continued growth of the Urban Health Opportunities Program, a collaboration with UNMC that provides a pipeline for underserved youth to pursue healthcare careers.
Expansion of the campus' physical footprint, including a privately funded addition to Mammel Hall, home to the College of Business Administration, which will enhance UNO's work in educating the next generation of business leaders. Facilities growth at UNMC also opens the door to new and more productive collaborations, including at iEXCEL, home to UNMC's virtual learning programs, and a planned relocation and expansion of the Munroe-Meyer Institute, which serves patients with disabilities.
Operational collaborations with UNMC that have enhanced efficiencies, yielded savings, and maximized the talents and resources of both campuses for greater impact. Newly shared administrative appointments include those in business and finance, student success, global engagement, research and creative activity, and wellness.
As required by state law, Dr. Gold's selection will now undergo a 30-day public vetting period before his appointment is considered by the Board of Regents. The vetting period will include an open forum at 8:30 a.m. on Nov. 19 at UNO's Thompson Alumni Center where faculty, staff, students, news media and members of the public are invited to ask questions and provide feedback. The forum will also be live-streamed online; additional details are forthcoming.
Prior to joining UNMC, Dr. Gold served as chancellor of the University of Toledo's academic and clinical health sciences. He previously served at the Albert Einstein College of Medicine-Montefiore Medical System and the Weill Cornell College of Medicine-New York Presbyterian Medical Center. Dr. Gold is a graduate of the Cornell University College of Engineering and the Weill Cornell College of Medicine.
More information on the UNO chancellor search is available at www.nebraska.edu/unochancellorsearch.
Media Contact:
Melissa Lee
Director of Communications,
University of Nebraska